We have had a very full few days in Fairbanks, AK! Normally, we don't spend a ton of time in cities. We usually prefer to be in more remote and natural areas, but when you come all the way to Alaska, it pays to see as much as you can, even the cities. It has been a nice change of pace, and we look forward to more of it as we continue on and explore the many small towns of Alaska, especially along the coast!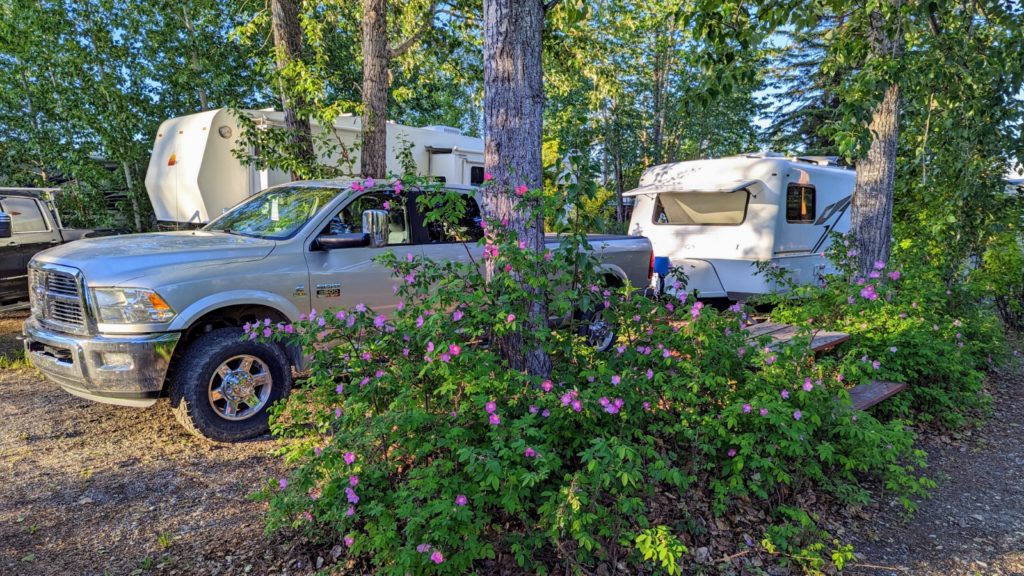 First, a couple of impressions and observations on Fairbanks. As for the city itself, it is nothing special to see. For some reason, we were expecting it to have beautiful views and grand vistas, but it looks like any ordinary city in any ordinary area of the US. There are major, modern stores such as Walmart, Fred Meyer, Sportsman's Warehouse, etc., and the prices are not that much more than we would pay in Kentucky! That is really surprising to us. We were expecting prices to be much, much higher, like those in California, but things are really quite reasonable. While the landscape is slightly underwhelming, the history and culture of the area is amazing. We loved exploring a local park, learning about life in interior Alaska at the visitor center, seeing the Trans Alaska Pipeline, touring a gold dredge, and visiting one of the most amazing antique auto collections we have ever seen. And for anyone who is wondering about the daylight…Fairbanks is firmly within the "land of the midnight sun." That means that it never really gets dark here this time of year. The sun will set, but it never gets darker than twilight. Today for example, the sun rose at 3:09am, and will set tonight at 12:34am. It is amazing, but trust us when we say that it is difficult to make yourself go to bed when the sun is still shining brightly! Anyway, let's get to the fun stuff we have done while in the city.
Pioneer Park is a collection of historical buildings that house shops, restaurants, and museums as well as a collection of artifacts from the city's past. We enjoyed seeing the many historical buildings and cabins that have been moved to this park from around Fairbanks, as well as the SS Nenana, which is one of only three remaining steam-powered passenger sternwheelers left in the United States. It is truly massive! In addition, we were able to walk through the train car that President Harding rode in when he toured Alaska in 1923, and there was some heavy equipment and mining equipment that was used in the early 1900s on display, as well. The park was a great place to spend a couple of hours on Wednesday.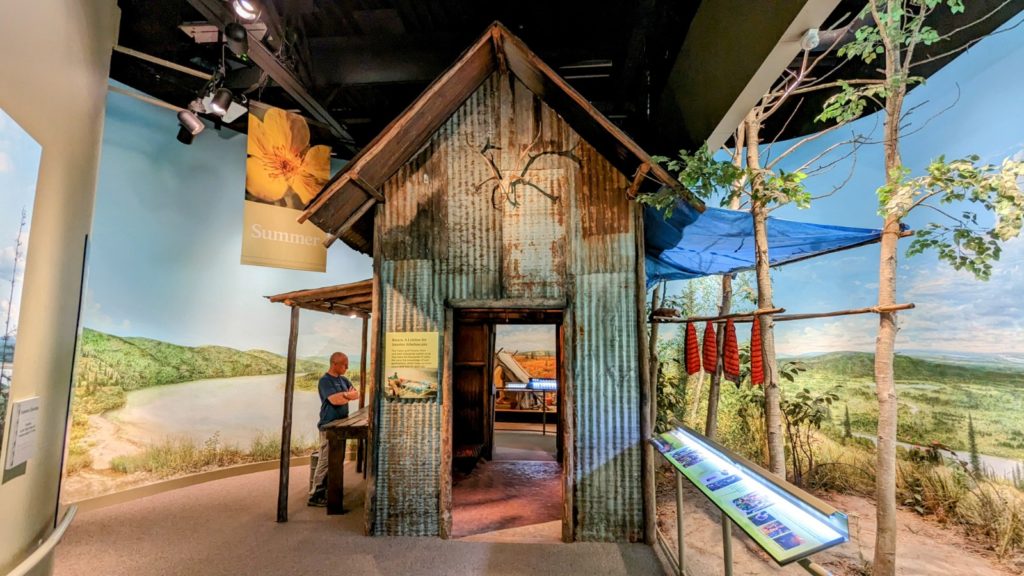 Thursday took us to the Morris Thompson Cultural and Visitor Center which we can honestly say is one of the nicest visitor centers we have ever visited. Of course, they had staff available to answer questions and help promote the activities and attractions in the area, but they also had an amazing exhibit area that focused on life in interior Alaska and the native Athabascan people. The exhibit area was set up by season and walked you through what a year in interior Alaska would look like for the residents, both in modern times as well as in the past. The exhibits were immersive and so well done that we spent several hours going through them, and did not want them to end! There was also a large area on the culture of the Athabascan people that showed a great deal of their crafts and gave many insights into their lifestyle. The beadwork and the birch bark baskets made the greatest impression on us. Their craftsmanship is stunning!
After leaving the visitor center, we headed up the Steese Highway for a view of the Trans Alaska Pipeline. This was our first up-close look. We were amazed to learn that the pipeline runs 800 miles and is 48 inches in diameter. Some sections of the pipeline run below ground, but more than half of it is above ground. In areas of permafrost, it is above ground in order to prevent it from melting the permafrost and thus causing soil stability issues. The sections above ground rest on supports that allow it to move in order to prevent it from breaking during earth quakes or during expansion and contraction during temperature fluctuations. It was put into use in 1977, and still moves oil to this day. What an engineering wonder!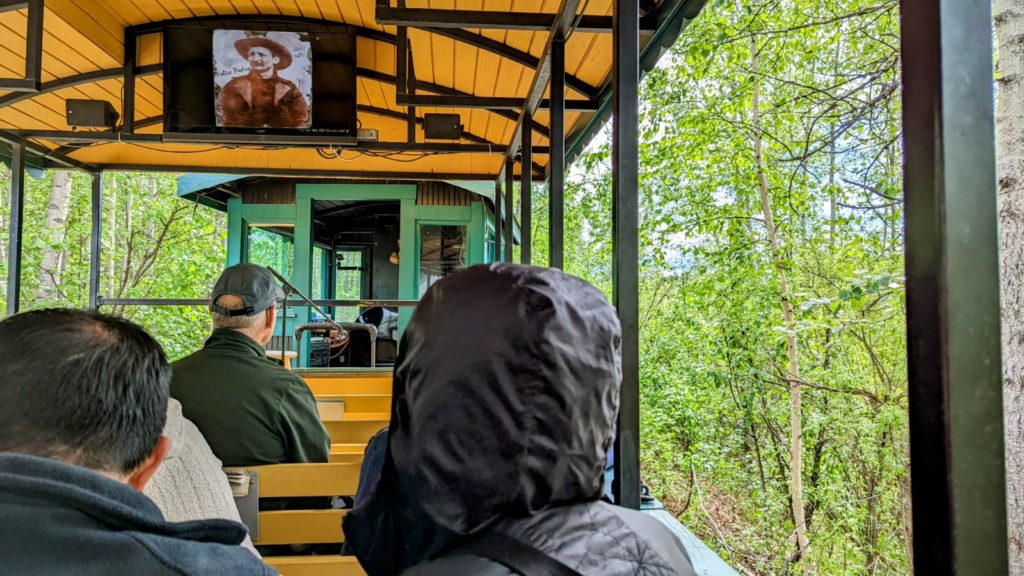 We have been interested in gold mining for years, so we knew our Alaska trip would have to include a visit to a gold dredge. A gold dredge is a large mining machine that resembles a boat, that separates gold from sand, dirt, or gravel using water and lots of very complicated mechanical methods. We aren't going to go into exactly how it works, but definitely look it up if you are interested. It is some interesting stuff! Anyway, just outside of Fairbanks is Gold Dredge 8 which you can tour. The tour includes a train ride to the dredge during which the history and methods of gold mining in this area are explained, as well as a gold panning demonstration. Then, you are given a bag of pay dirt and the chance to try your hand at panning. We have done some gold panning in the past and already knew that it is a lot of fun! We look forward to getting out and doing some more in the actual creeks around Alaska! After our quick panning experience on the tour, we were then free to go into the dredge and explore it on our own for a half hour or so before boarding the train for the ride back to the truck. This was a bit touristy for our taste, and definitely a bigger group at once than we would have liked, but it actually worked out just fine. They have a great PA system on the train, so everyone was able to hear without any problem, and the gold panning area was huge, so it didn't feel too packed. Most people didn't even venture onto the gold dredge, so even that didn't feel too crowded. We would have preferred to be able to just hike to a dredge and explore it on our own, and maybe that can happen later in the trip, but this was a decent alternative in the Fairbanks area.
Today, took us to the Fountainhead Antique Auto Museum, of all things. Antique cars were not even on our radar for the Fairbanks area, but after doing some reading and watching some videos of the area, it seemed like it was a must-see stop, so we figured, why not? Jeff loves cars, and while Heather doesn't know much about them, she can appreciate the work that goes into the restorations. Hear us out, here, because you will probably be as surprised as we were. This is one of the most amazing museums we have ever visited. Similar to the Erickson Aircraft Collection we visited a few posts ago, this is a private collection owned by one family. You will not understand how hard this is to wrap your mind around unless you just visit yourself, but these cars are PHENOMENAL and there are SO MANY of them. The collection includes over 95 vehicles, with there always being at least 65 to 75 on display. There are steamers, electric cars, speedsters, etc., that range in production years from 1898 to 1936, and the most amazing part, is that – with the exception of three – they all run! They weren't exercising any of them today, but we hear that it is not uncommon to see some of them running around in the parking lot and resort area around the museum. We so wish we could have seen that! The gentleman in charge of the collection spent some time talking with us and said it isn't uncommon for them to spend $700,000 to $800,000 restoring a car, and that once restored, the car could be worth $5million. Can you imagine?? And they have 95 of them! In addition to the cars, they also have a fabulous vintage fashion collection that they display with the vehicles. It really adds a human element to see the fashions of the time displayed right next to a car from the same time-period. We totally agree that the Fountainhead is a must-see stop in the Fairbanks area, and if you make it in, be sure to talk to Willy who is in charge of the place. He is such a great guy and will give you way more information than you could glean on your own!
Fairbanks has certainly not been our usual hike, scenery, and wildlife bit, but it has been a great change and we have enjoyed every minute. We expect to get back to a more natural area tomorrow, but if you enjoy these types of activities better, have no fear. As we head south throughout the next couple of months we expect to be doing way more explorations in the cities and small towns we pass through. Alaska has so much to offer and we hope to get to see and experience as much as possible while we can!
Here is the video we created from our time at the visitor center and the Trans Alaska Pipeline:
And one from Fountainhead Antique Auto Museum and two different gold dredges!
Until next time!