Yesterday didn't exactly go as planned, but we were able to recover and it turned out to be a good day! Our plan was to get up and head to Valley of Fire State Park in hopes of getting one of their first come, first served campsites and then spend the next couple of days exploring the park. It is a fairly large state park and has quite a few hiking trails to some of the most amazing rock formations we have ever seen, so there would be plenty to keep us busy for a couple of days. When we arrived, though, the campground was already full. In order to even get into the park to determine if there is availability in the campground, you have to pay the $15 entrance fee which is good for one day. Since we had paid that, we decided to try to find somewhere to stay nearby, get set up quickly and then head back in to see as much as we could in the remaining afternoon to avoid paying the entrance fee again.
We easily found a site at the nearby Poverty Flats BLM Dispersed Camping area and got set up. This is a very large gravel area with lots of space for many campers. The gravel consists of large-ish rocks, but nothing too big to get the Bigfoot over, so it worked out really well, and the free cost of these BLM areas make them even more attractive. There were lots of other campers here, but the large size meant that there was enough space to not feel crowded.
Not wanting to waste too much time, we ate a quick lunch and then headed back to Valley of Fire to see as much of it as we could. Heather had done some reading and really wanted to see the area they call the Fire Wave, so that is where we headed first. The parking lot was SLAMMED. We weren't able to get into it, so we went a little further down the road to the next attraction, and that parking lot was also full. Unsure what to do, we headed back the way we came, and surprisingly, there was a parking spot in the Fire Wave lot when we went past again! Apparently, this is Spring Break time around here, so everything is packed. Anyway, we had one afternoon to see everything, and we weren't going to be deterred by some crowds, so off we went.
We started out on the Fire Wave and Seven Wonders Loop. The rocks here are unlike any we have seen anywhere else. Heather said they remind her of Easter eggs because of their beautiful pastel colors in pink, yellow, orange, and lavender. Unfortunately, it doesn't seem like the cameras were able to capture the colors as our eyes saw them, but in many places it really looked like someone had watercolored them! There was always something interesting along the trail to look at, and then we reached the Fire Wave with its swirling stripes of pink. It was beautiful. And also very crowded, so we spent a few minutes taking it in and then went on our way.
Nearby was the White Domes Loop Trail. Most people drive from one spot to the next, but it wasn't far, so we headed up and over the rocks to the next trail. There wasn't necessarily a trail to follow, but it wasn't difficult to get from one trailhead to the other. The White Domes Loop had more of the spectacular Easter egg colored rocks, a really neat slot canyon, and of course some large white dome shaped formations. It was later in the day by this time, so the crowds had thinned a bit, which made it more enjoyable. We both said we enjoyed this hike more than the first!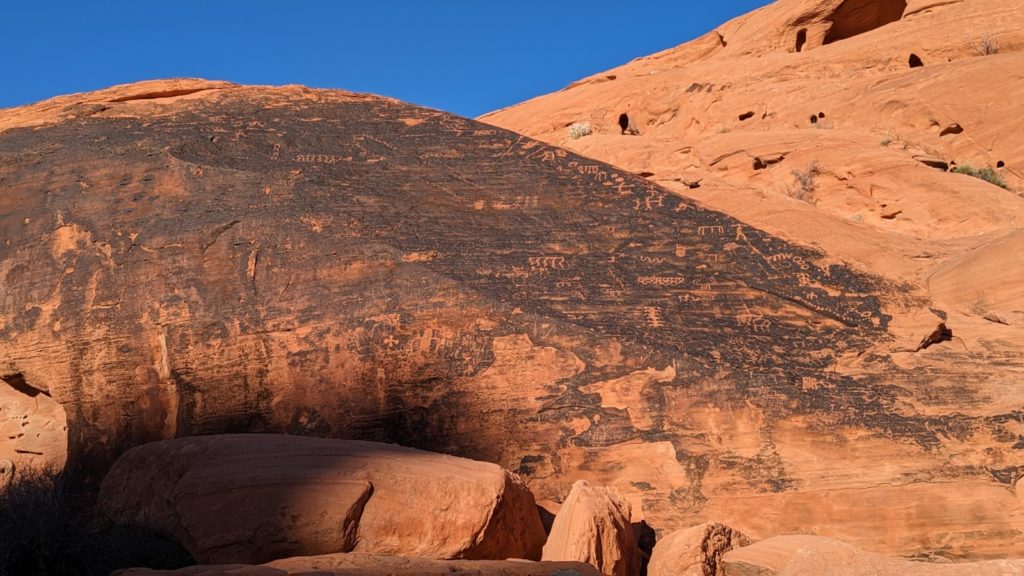 By this point, it was getting pretty late in the afternoon, and the park closes at sunset, so we needed to keep to the shorter hikes and roadside attractions. We went next to Mouse's Tank, which is a 0.75 mile trail that goes into a canyon that is lined with petroglyphs. There were so many! There were also some of the strangest rocks! The faces of the canyon walls had all kinds of weird formations and huge holes recessed into them. The petroglyphs were amazing and are considered the draw of the area, but the rocks were extremely interesting, too. We spent as much time exploring the rock formations as we did marveling at the petroglyphs. From there, we needed to head out, but made quick stops on the way out to see Balancing Rock and Elephant Rock.
We definitely crammed a lot of sightseeing into one afternoon. Valley of Fire is a beautiful place and very much worth the $15 entrance fee if you are ever in the area!
Watch our video below to hike with us in Valley of Fire!
Until next time!