Wow! Yosemite is breath taking! Bear with us in this post as we run through the thesaurus of all words synonymous with amazing. No matter what words we use, though, it will never be enough to describe the reality of Yosemite. If you ever have the chance to go, jump on it! We spent a week, total, in the park and both wish we had booked a longer stay.
When we ended our Part One post, we were leaving Hodgdon Meadow and heading into Yosemite Valley. Yosemite Valley campsites are hard to come by. Back in November, we entered a lottery to have the opportunity to book a site in North Pines Campground before the booking window opened to the public. The website did not give us much hope. It said that there would be 2,500 winners out of the approximately 22,000 applicants they were expecting. And, even if you win, you are given a time slot to book and the later the time slot that you are given, the less likely you are to get the site and/or dates that you want. The odds are not great, but this was likely our only shot at getting a site in the valley because of how many people compete for those spots. Amazingly, though, we won a spot about halfway through the winning time slot period! Even after winning the opportunity to book, though, we were still not overly optimistic. There are only a handful of sites in the campground that we could fit in, and there were a fair number of people who won earlier booking slots than us. However, when our time arrived, we were able to get the site and dates we were hoping for! We attribute it to going really early in the season, but it may have just been dumb luck. Not going to lie, though…Heather did a bit of a happy dance!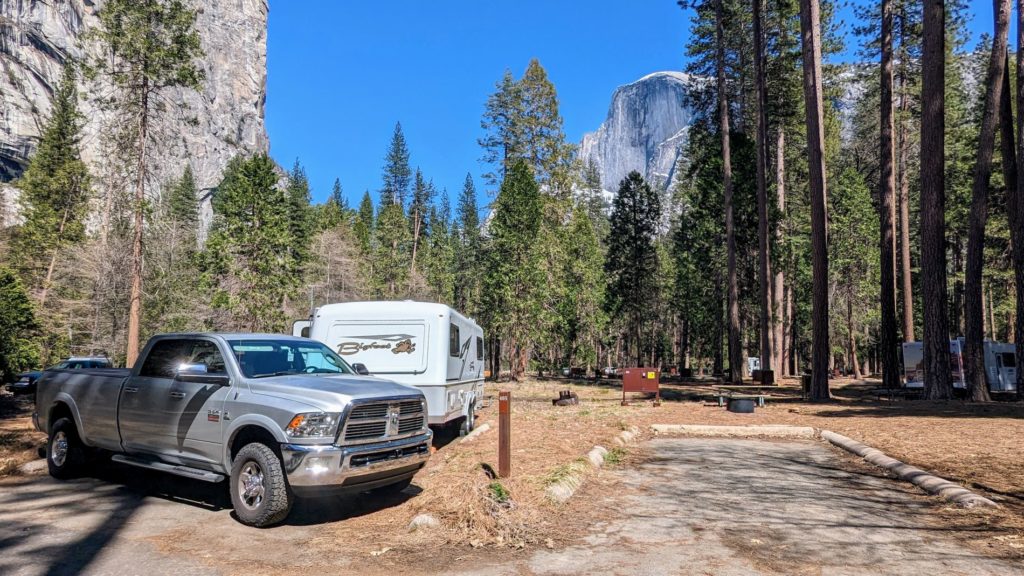 So anyway, after all the finagling just to get a reservation, we left Hodgdon Meadow on Monday full of hope about North Pines campground.  We weren't disappointed.  This campground is much nicer than Hodgdon Meadow in that the sites are mostly level and the area you park on is paved.  The sites are pretty close together, though, and getting in and parked is TIGHT!  If there had been anyone in the site across from us, we probably would have had a really hard time, but thankfully, no one had moved in there yet.  (Getting out with a big Class C in that spot was a little more difficult, and we had to go the wrong way for a short distance on a one way road.  Yikes!)  Of course, the location of North Pines is phenomenal.  It is right in the valley within walking or biking distance to most of the main attractions, and there is a shuttle stop pretty close by, too.  The best part, though, is the unobstructed view of Half Dome we had out the back window of the Bigfoot!  Such an awesome surprise!
We couldn't contain ourselves when we arrived. Typically on a moving day, we arrive, set up, and spend the rest of the day relaxing or doing chores or computer work. Not this time! We set up as quickly as we could and headed out immediately to start seeing the sights! That afternoon we headed up to Mirror Lake. Our plan was to walk up on the road, wander around the lake (which isn't really a lake…look it up) a bit and then head back down, but once we were there, we couldn't stop ourselves. We ended up doing the entire five mile Mirror Lake Loop Trail. Normally, this trail wouldn't be very difficult, but there were several sections that were VERY wet (think pond-like), so we had to do a fair bit of bush-whacking to get around them, and there was a somewhat lengthy section where there had been a recent avalanche, so there were many trees down across the trail that we had to climb over or navigate around. It was so much fun! We both loved the hike and it got us even more excited for what was to come over the next few days.
Tuesday, we awoke to a snow/rain mix and temperatures that were much colder than the day before. That was not going to keep us in! We put on some warm clothes and decided to first hit Yosemite Village to see what there was there while the temperatures warmed up a bit. We did decide to drive, though. It was a little more wet than we wanted to walk in, and we would have frozen on the bikes! Lots of other people had the same idea and it was crowded, but it was a good way to spend half a day. We wandered in and out of a few stores, checked out the visitor center, watched the park film, and went to the Yosemite Museum and Indian Cultural Exhibit.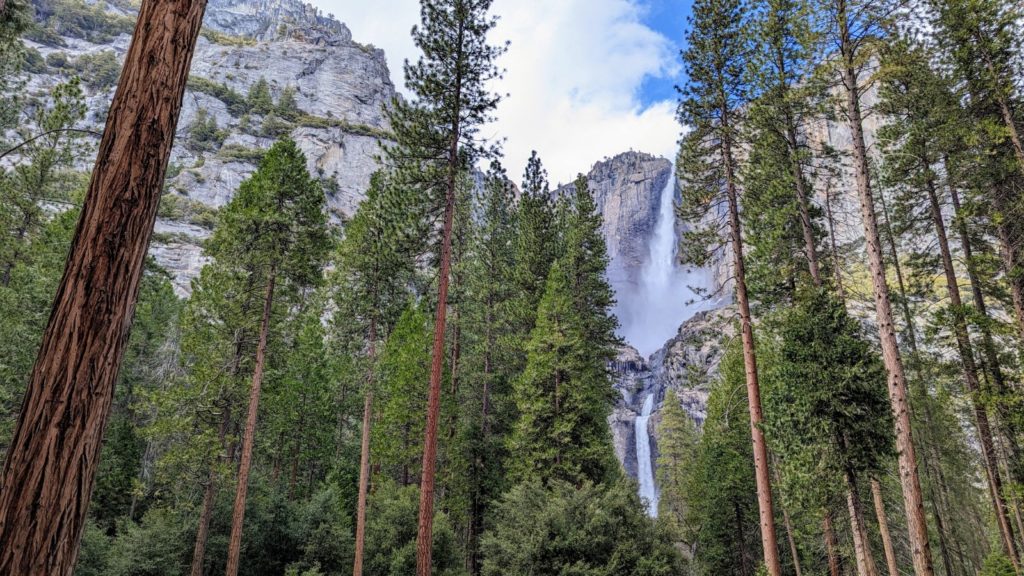 That afternoon, when the weather started to improve a bit, we continued driving up the valley and made stops at many of the iconic Yosemite sights. We stopped at Yosemite Lodge and walked over to the base of Lower Yosemite Fall, stopped to marvel at El Capitan from several different viewpoints (the best is from El Capitan Meadow), took way too many pictures from the Valley View pull-out, watched as the late afternoon sun lit up the valley from Tunnel View, and stopped to gaze upon Bridalveil Fall on the way back in. We even saw a bear on the side of the road. Unfortunately, it got spooked and ran into the trees before we could get any photos, but it was really exciting to see our first bear of the trip. Hopefully, it won't be the last! We packed a ton of sights into one little day and went to bed very tired, but also very satisfied.
After our full day in the valley, we realized there was more we wanted to do than we had time for with the one more day we had remaining, so we hit up the internet to see if there was any chance at all at booking an extra night or two. Remember all the hoops we had to jump through for the initial reservation? Well, we had noticed that the campground didn't really seem full. We are thinking that many people must have cancelled their reservations during the period of uncertainty with the snow and the delayed opening of so many things in the park. Anyway, amazingly, the site we were already in had one more night available, so we snatched it up in a hurry! That meant we still had two full days to explore!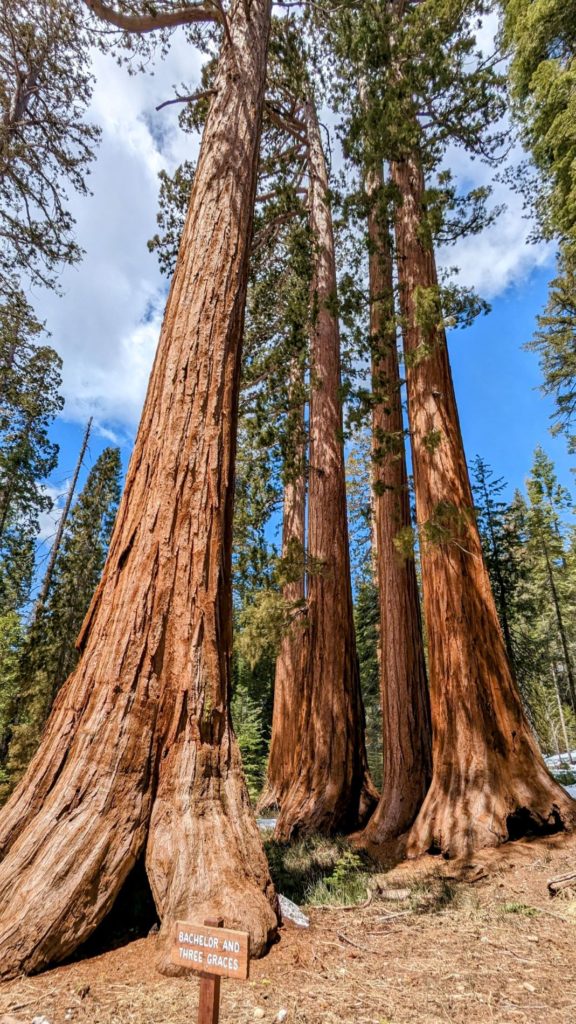 On Wednesday, we decided to venture out of Yosemite Valley and down to the Mariposa Grove and Wawona.  Private cars are not allowed up the Mariposa Grove Road.  Usually there is a shuttle that runs between the parking lot and the grove (two miles one way), but not while we were there.  That meant we were hoofing it.  There was no snow on the road, so that wasn't an issue, but we knew there would be some in the grove, so once again we were faced with the question of Yaktrax vs. snowshoes.  The staff member in the welcome center said that if we wanted to do any side trails to go with snowshoes, but if we only planned to do the main trails, we would be fine with Yaktrax, so Yaktrax it was.  She was 100% correct.  With all the people who go up to the grove everyday, it was quite packed down, and even the Yaktrax were a bit of over-kill in spots.  We ended up taking them off about half way through the hike.  Mariposa Grove is striking.  There is a reason it is so much more popular and crowded than Tuolumne Grove.  The amount of and size of the sequoias there just blows Tuolumne Grove out of the water.  The Giant Sequoias in Mariposa Grove are everywhere, not just a few scattered around.  Not to downplay Tuolumne Grove, though.  Tuolumne is a much more serene setting and offers way more solitude.  Mariposa was crowded, but still so worth the visit!  All the trees were great, but Heather's favorites were The Bachelor and Three Graces.  Seeing them all grouped together was stunning.  We are so glad we made it to both Mariposa and Tuolumne Groves. On our way back to the Bigfoot, we stopped at the Pioneer Yosemite History Center.  This is an area where they have relocated several historic buildings from the 1800s that were in the area.  It was fun learning about each building, what its purpose was, and a little about the people who utilized it.  The transportation building was especially gorgeous!  
Our final full day in Yosemite National Park brought a hike along the Mist Trail to the Vernal Fall Footbridge. We thought the Mist Trail was closed beyond the footbridge, so that was as far as we were prepared to go, but once we got there, we didn't see any signs of a closure. Had we known, we would have gone prepared to go further, but had to settle for the view of Vernal Fall from there. Maybe we can make it to the top next time! Afterward, we wandered through the Happy Isles area and then back to the Bigfoot for lunch before a bike ride. There are some great bike paths in the valley, but because they are also utilized by pedestrians and get crowded, they can be a bit difficult to ride. When you are away from the attractions, though, and if you go at off times, it is really a fun thing to do and a great way to see spectacular Yosemite Valley! We even rode back up to Mirror Lake later in the day to get one last look.
Even with extending our stay by a day, when we woke up Friday morning and started preparing to leave, neither of us were really ready to go. Leaving someplace so beautiful that has been highly anticipated, not knowing if you will ever make it back, is difficult. Add to it that there were still so many things we would have liked to have done and seen, and we were both a little sad that it was over, but so grateful that it happened in the first place! Farewell, Yosemite. You gave us a fantastic, adventure filled week, and crammed us full of so much splendor that we will be processing it for months. May we meet again!
Until next time!
P.S.  A few words from Heather that she couldn't leave unsaid:  When I was here twenty-something years ago, it was on a famous "Green Family Vacation."  Seeing the sights and walking in the locations that I walked with my family so long ago has made me miss them even more this week than usual.  To Dad, Uncle Richard, and Uncle Alan: A year is a long time to go without seeing your faces!  The offer is always open for you to come visit us any time wherever we are.  To Mamaw and Papaw:  I'm not sure I have the words.  Somehow I miss you as much now as I did the day you left.  It doesn't get easier.  Mamaw, your theory that even on the cloudiest of days, the sun always shines in the early evening held true.  Or maybe that was just your gentle reminder that you are here.  I hope so.