We are so excited to be in Denali National Park! We have looked forward to this visit for a very long time, so when planning the trip we decided to book several nights in two different campgrounds in order to get a good feel for the different areas of the park. This post will chronical our adventures while staying in Riley Creek Campground in the busier, more "front-country" type area.
First, let's start by saying that the park is not fully open as of our visit. There was a landslide a year or two ago that closed the only (92 mile) road into the park at mile 43. While we are disappointed to not be able to experience the park fully, we feel really fortunate to be here at all, so we are just soaking in every experience we can.
As for the campground, Riley Creek is a little different than most in that when you reserve a campsite, you aren't reserving a particular one. Basically, you are just pre-paying for a spot that you select first come first served style when you arrive. We were a little nervous because there are two different sizes of spots and you have to reserve the one that fits your RV, no matter what size your rig is when hooked up. In other words, we had to reserve a 30' and under site since the Bigfoot is 25' despite the fact that the truck and trailer together are almost 50'. One of the YouTube channels we follow had been in a similar situation here and they talked at length about how tight the spaces are and that those with longer trailers would likely have to park their tow vehicles in a lot just outside the campground. We were nervous because we are not big on having to park the truck somewhere away from our campsite. This may sound ridiculous on the surface, but right now our truck and trailer are our home and there are a lot of items contained in each that we really don't want stolen. We very much prefer to keep it all in one place so we are able to keep a closer eye on it. Anyway, it worked out just fine. It is absolutely true that some of the spaces are tight, but we were able to find one where we were able to squeeze the truck in beside the camper without too much trouble. Everything else about the campground is great. We have been able to enjoy evening ranger programs, the location is spectacular in that there are shuttle stops, hiking trails, and the bus depot very near by, and the sites are quite spaced out with trees between.
One interesting thing about Denali is that they have an extensive bus and shuttle system that can be a little complicated and intimidating at first. We're not going to bore everyone with the details, but if you are coming to Denali and would like more information, send us an email via the contact page and we will be happy to tell you everything we have learned! It has been really nice to be able to go most anywhere we want to go without having to drive! We have found the drivers to be a wealth of information about the area and have seen way more wildlife than we would have otherwise because of all the eyes on the bus that are looking out for it!
Another thing to note about Denali National Park is that Denali, the mountain, is pretty elusive. They say that only 30% of visitors actually get to see the mountain due to the clouds that often surround it in the summer. If your goal is only to see the mountain, you are much better off trying for a winter visit. Given the forecast of cloudy skies and rain for most of our visit, our odds of seeing it were not good.
Now, on to the specific activities we have enjoyed…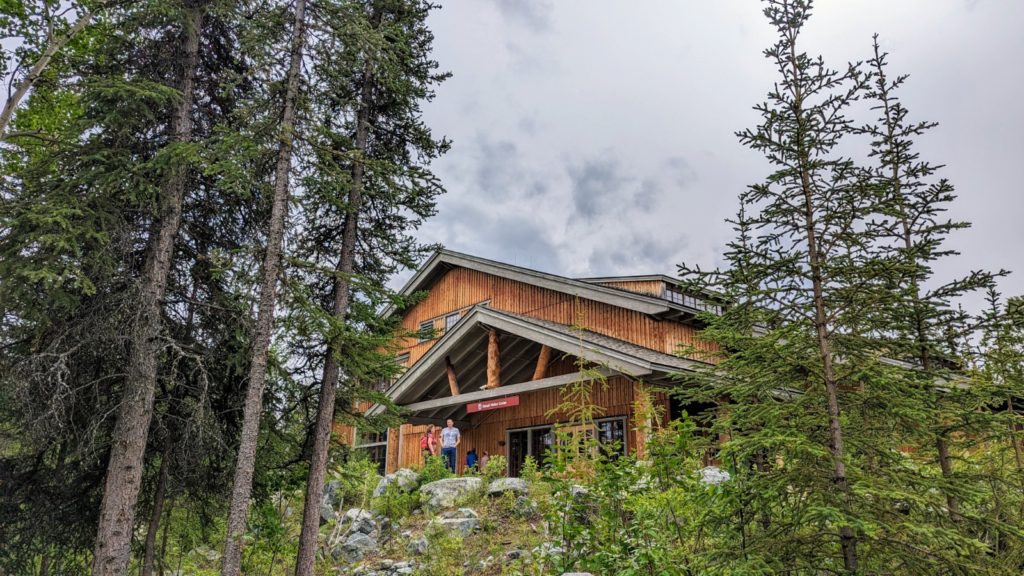 On Monday, as is usually our habit, our first stop after the campground was the visitor center. It was super crowded, but we were still able to enjoy the exhibits inside as well as speak to a couple of rangers and get some great information about the bus system and the different hikes in the park. We also chose to drive the first 15 miles of the park road, which is as far as private vehicles are allowed to drive. Beyond mile 15, you must pay for a ticket on a transit bus to go any further (with one exception that we will talk about in our next post.)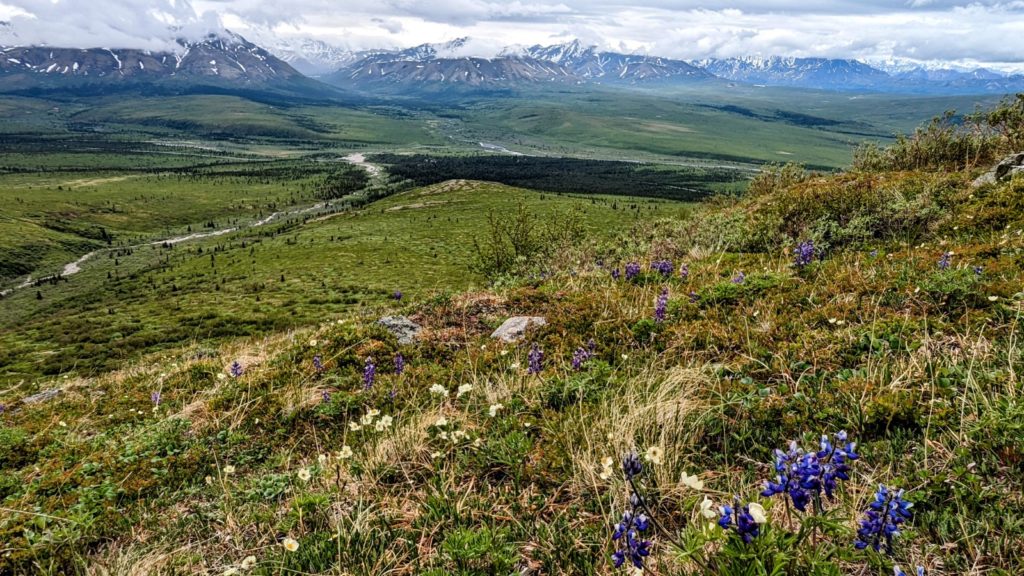 It seemed like we would have a break from the rain on Tuesday afternoon for a few hours, so we planned a hike for the day. We hopped on the Savage River shuttle and took it to the Mountain Vista Trailhead where we hiked the Savage Alpine Trail. This is a somewhat strenuous 4 mile hike with 1500 feet of elevation gain. One of the rangers from the day before said that it is a more gradual incline and steeper decline if you start at this trailhead as opposed to the Savage River trailhead. It was the right decision for us because we don't love steep inclines, but that descent was no joke and we both have sore knees from it. If you have knee problems you might consider reversing the route.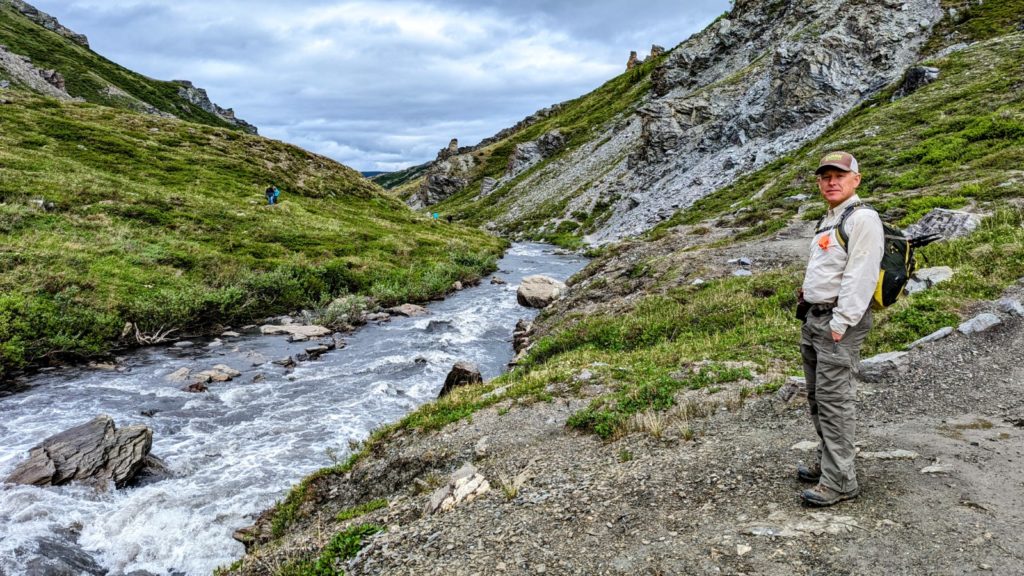 Upon completion of the Savage Alpine Trail, we were at the start of the Savage River Loop, and since it didn't seem like it would be a difficult hike and was only two miles, we went on and did that one as well. We were pretty pooped after doing both, though, and it was nice to relax on the bus and be chauffeured back!
On Wednesday, we had transit bus tickets that we reserved in December when we made the campground reservations. We were questioning our decision to book 7:00am tickets, but now feel like it was a good one! Being early in the morning, we feel like we saw way more wildlife than we would have otherwise. During our four and a half hour ride to mile 43 of the park road and back, we saw seven moose, seven Dall sheep, and fourteen caribou! We also caught a teeny-tiny sliver of a glance at Denali! Our bus driver said it counts and that we are now part of the 30%, but we aren't so sure. We feel like we need to see the entire mountain for it to count! What do you think? We do recommend spending the money for a transit bus ticket since it gets you out to an area of the park that you wouldn't otherwise be able to see. And while bus drivers are not required to narrate and give you information as you go, ours never stopped talking! We are glad we didn't pay extra for a narrated tour since we feel like we got that anyway! He was also great about spotting wildlife and stopping anytime there was something worth seeing so that everyone could get a turn to take some photos.
We got back from our transit bus trip around noon and felt like we had already put in a full day, but we didn't want to waste the afternoon since the rain was continuing to hold off, so we stopped in at the science center and then went to a demonstration at the dog kennel. This is the only national park in the country with a working dog kennel, and it isn't just for show. They actually still use the dogs to pull sleds in the winter for patrolling the park, breaking trail, and getting supplies and researchers out to the more remote areas. The dogs were very sweet and it was nice to see the demonstration, even though it was pretty short. An afternoon spent with dogs is always a good afternoon, right?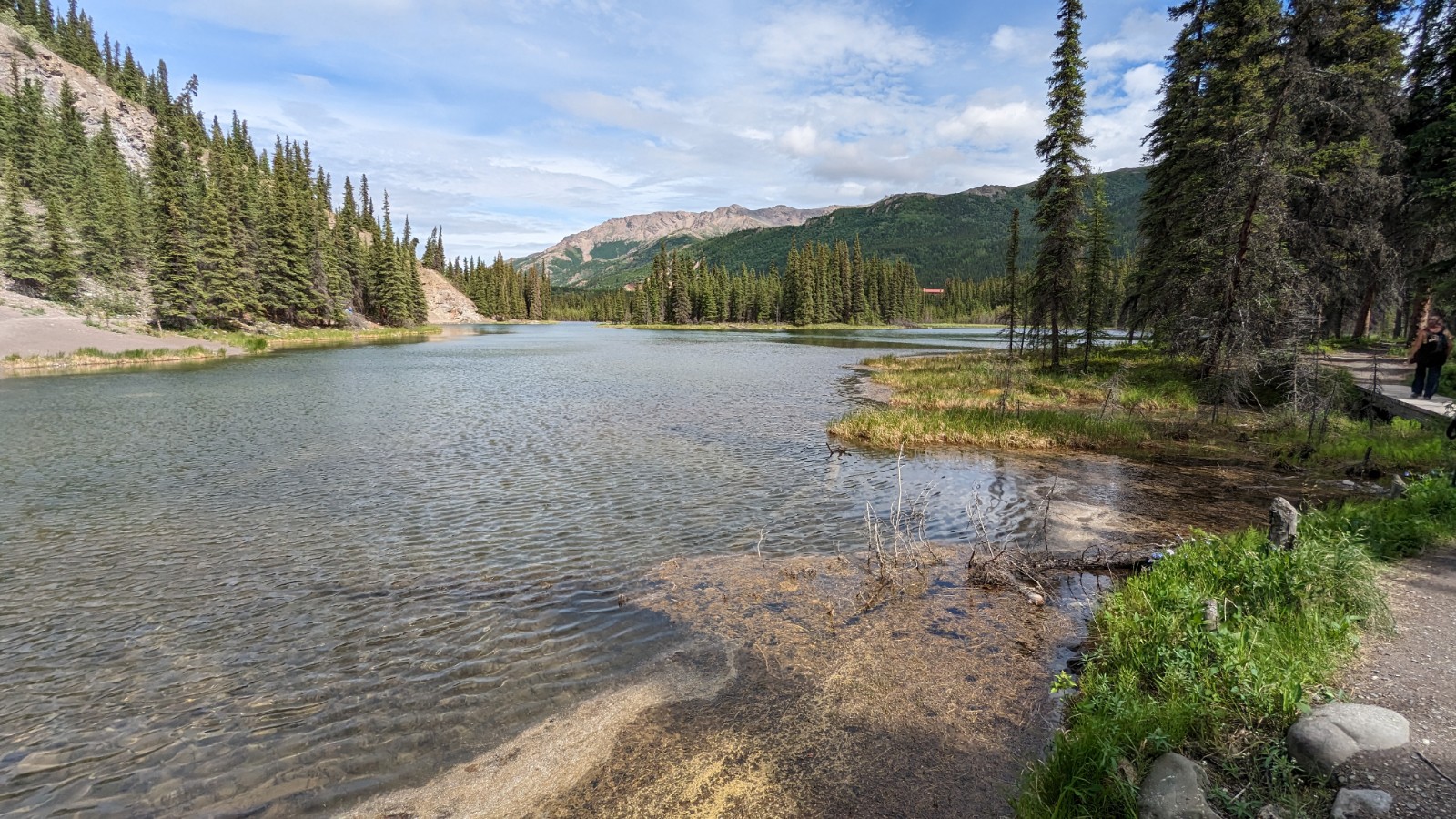 Today has been an absolutely gorgeous day! We have seen the sun shine a bit and other than a stray sprinkle here and there, we made it through an entire day without rain! We got outside and enjoyed the weather by first hiking to Horseshoe Lake. This is such a pretty lake with an extremely impressive beaver dam and lodge. We had fun checking it out and seeing all the evidence around of the beaver activity. We also saw a moose dipping her head under the water to get to the aquatic plants. They can stay underwater much longer than you would think! Then, after the hike, we got the bikes out and exercised them a bit. There is a nice bike path that runs from the visitor center, out of the park, and through the small tourist town outside the entrance. It was a much more leisurely day, but still so much fun.
Tomorrow we move to a different campground within the park, but we won't get into all that…
Until next time!