After our boat ride to Seldovia that we talked about in our last blog post, we spent the next day exploring the beach, old town area, and fishing hole in Homer. In all honesty, there wasn't much about it that was blog-worthy, so we are going to skip it and move on to our next stop which was Seward, AK. As was the case in Homer, Heather's Uncle Richard joined us for the visit to Seward.
We will preface this blog post by saying that the weather while we were in Seward was absolutely terrible. It rained the ENTIRE time we were there, other than about two hours on the morning we were leaving, and there was fog and low cloud cover the whole time as well. It is really a shame, because it looks like it otherwise would have been an absolutely epic stop. We tried to make the best of it, and still got out to see some of the main attractions; we just ended up a little soggier than we would have liked! We did feel really bad for Richard, though, since he had such a limited time in Alaska and the weather was so terrible for a substantial portion of it.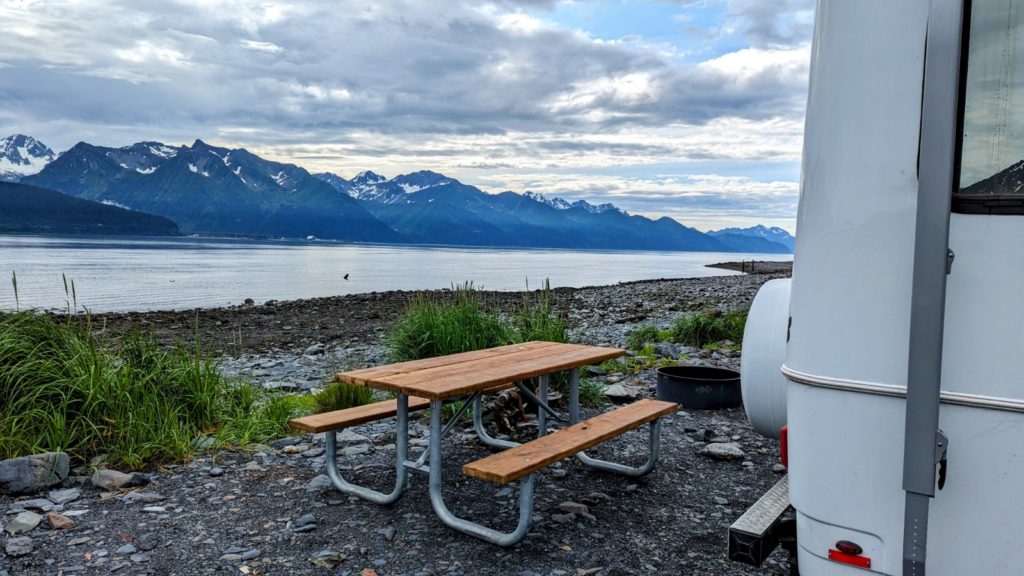 Let's start by talking about where we stayed. We chose to stay in Marathon Campground which is a city run site right along Resurrection Bay. The views were spectacular, even with the unpleasant weather, so we can only imagine what it might have been with a little sun. We could see mountains, glaciers, and the harbor area right from our campsite. It was pretty much just a parking lot without any amenities along the water, and it was full of potholes and huge puddles, but there were picnic tables and fire rings, and of course, that gorgeous view. There is also a multiuse trail that runs along the shoreline (and past the campground) all the way from beyond the harbor to the Sea Life Center on the other end of town. This made Seward a very pedestrian friendly place and it was great to be able to walk most places we wanted to go and not have to drive! Even in the rain, we did walk around town quite a bit, and found it to be a really cool place!
On our first night in Seward, we were all tired, so we turned in a bit early. Sometime around 10:30pm, though, all three of us were awakened by emergency alerts on our phones, and in an effort to not disturb the others, ALL THREE of us dismissed the alarm without seeing what it was. I think we all assumed it was something to do with the rain or possibly an amber alert, and we blissfully went back to sleep. The next morning, Richard ventured into town to a coffee shop and learned that it had been a tsunami warning and that many of the hotels in Seward had been evacuated! That could have been very bad for us since we were camped no more than 100 yards from the shore! Luckily, there was no tsunami, but we learned that we should probably pay a little more attention to those emergency warnings in the future!
Seward is the gateway to Kenai Fjords National Park, so we knew that we wanted to find a way to see some of the park. The best way to do this is by boat, so weeks before our arrival we booked a national park tour with dinner on Fox Island through Kenai Fjords Tours. This was an all day ride that took us around Resurrection Bay, into Aialik Bay to Holgate Glacier, around the Chiswell Islands, and to Fox Island. Again, the weather was deplorable. Low clouds and fog obscured most of the views of the surrounding area, there was a steady rain the entire time we were out, and the weather led to rougher than normal seas. Unfortunately for Jeff, that meant a bout of sea-sickness, so the boat tour was especially unpleasant for him. All that said, it was still a very worthwhile tour! We all agreed that our favorite part was Holgate Glacier. Being so close, seeing and hearing it calve, witnessing the chunks of glacial ice floating in the bay…it was just unlike anything any of us have ever seen before. Heather even got to hold a chunk of glacial ice that the boat crew fished out of the bay. It was as clear as glass! As for wildlife, we saw a pod of Dall's porpoises frolic around the boat, lots of different sea birds, bald eagles, sea otters, harbor seals…and drumroll, please…MULTIPLE HUMPBACK WHALES, about eight of which were BUBBLE NET FEEDING! It was so exciting to see! Richard had previously seen whales that had beached near his home in Myrtle Beach, SC, but it was the first time any of us had seen whales alive in the ocean, and the crew said that it is rare for anyone to see them bubble net feed! Unfortunately, we couldn't get too close so the photos aren't very impressive, but it is a special experience that we will all have forever – photos or no photos!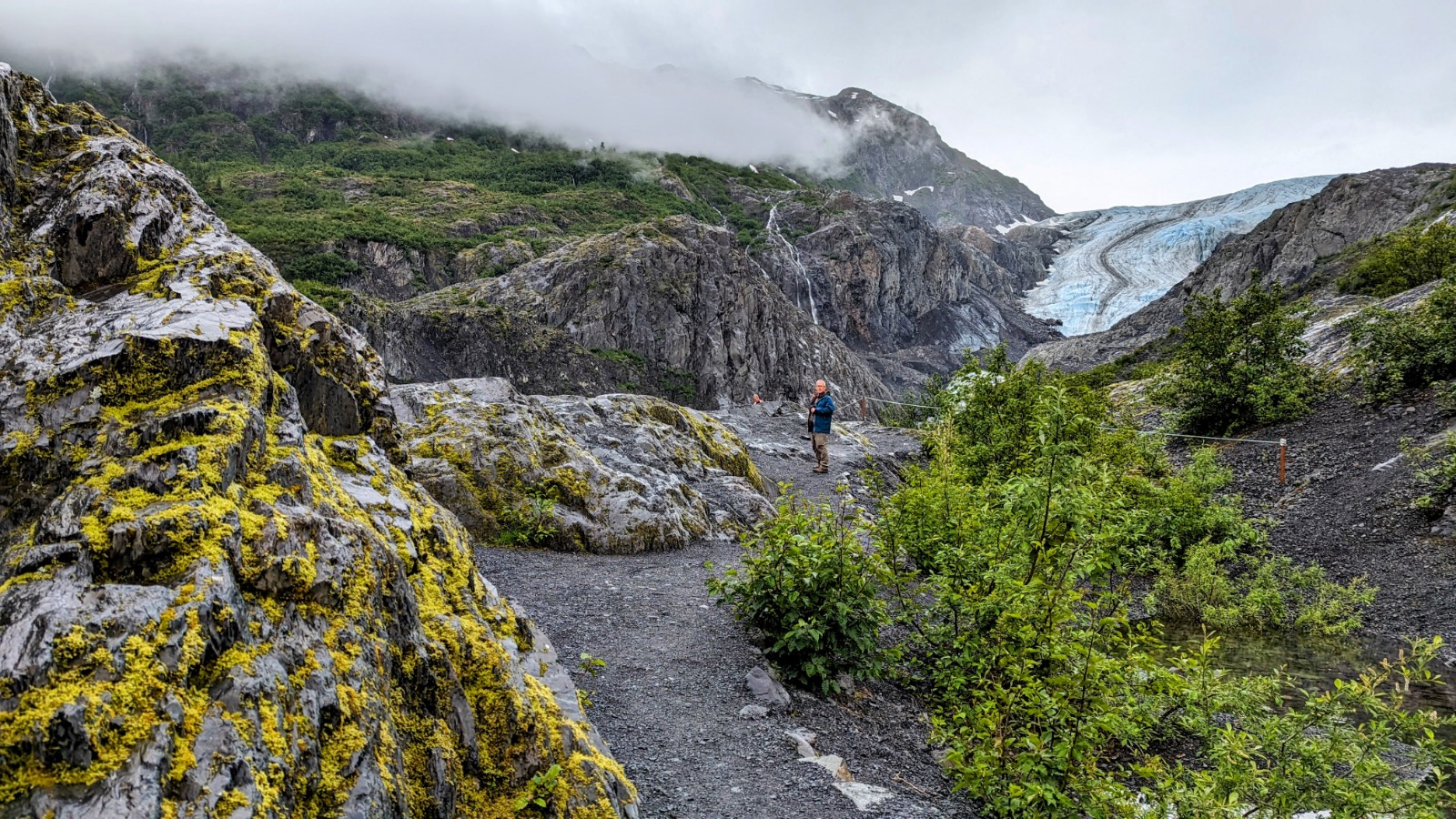 Speaking of Kenai Fjords National Park, the only area of the park that you can reach by road is the Exit Glacier area, and since it is just a short drive from Seward, we definitely had to check that out as well. The hike to the different Exit Glacier view points is a fairly short hike and parts of it are even ADA accessible. While we couldn't get as close to the glacier as we might have liked, it was interesting to see how much it has receded over the years. All along the trail are signs that show where the glacier terminated during that year. The signs even start during your drive in, way before you even get to the parking area, with the last sign on the trail showing the terminus in 2010. It is amazing how far the glacier has receded just since then! We hear there are also some great views of the glacier from the Harding Icefield Trail, but we didn't have the time on this visit to tackle that one. Despite it being 8.2 miles long with 3,500 feet of elevation gain, it will definitely be on the list for a future visit!
While in Seward, we also visited the Alaska Sea Life Center. This was a great spot to learn about and see some of the wildlife that can be found in the area waters. We were able to get way closer to some of the sea birds than we expected to, watched a training and feeding session with a sea lion, and even were able to touch some of the smaller animals such as sea urchins, sea stars, anemones, etc. It was a great way to spend a rainy morning!
Seward was such a neat place that we would love to spend some time in again when the weather is a little better! We feel like we made the most of our visit, but can only imagine the beauty that was hidden behind all that fog and those low clouds! Turns out, this weather is pretty typical, though. As one of the locals told us…we got the true "Alaskan experience!"
Until next time!