Well, we are back in Alaska! We weren't ready to say goodbye for good just yet, so we have made our way to Skagway for a few days.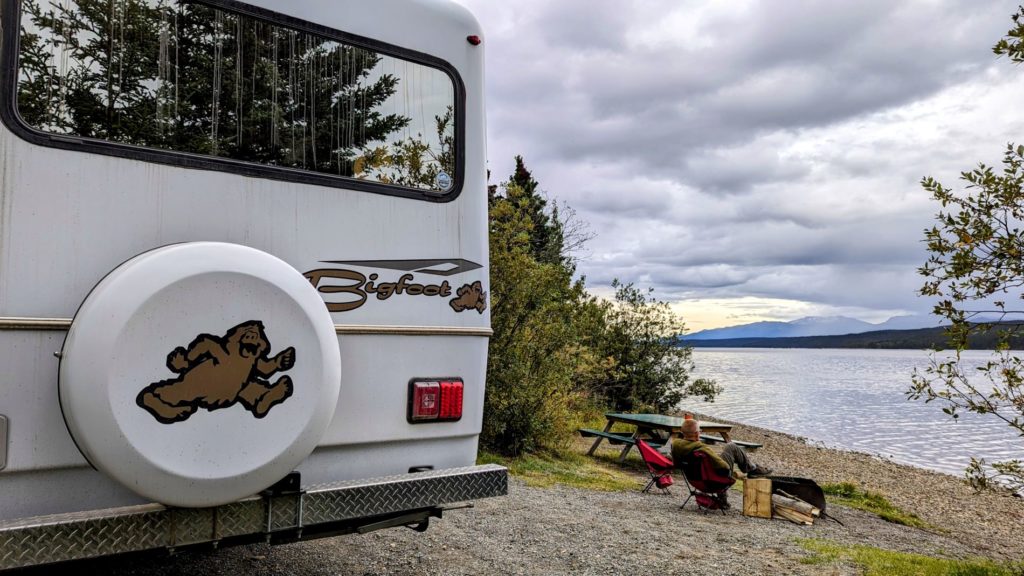 Between Dawson City and Skagway we made a couple of stops, and check out the view from our campsite at Fox Lake!  We think it was the best campsite there, and we soaked in that beauty for the whole 20ish hours we were there.  We even had a rare campfire with the FREE wood provided by the campground.  If fall wasn't nipping at our heels we could have stayed for a few days and been perfectly content.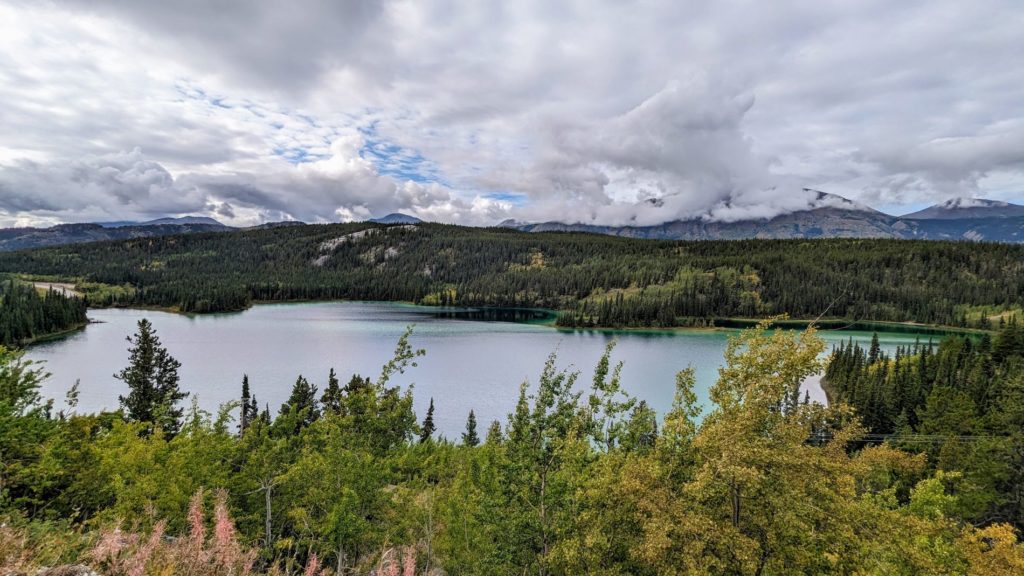 The temperatures are cooling fast and winter will come quickly to this area.  Since we have several stops we want to make before returning to the lower 48, we had to keep moving, so south toward Skagway we came.  We were totally unprepared for how gorgeous the drive along the South Klondike Highway (the road to Skagway) is!  We actually decided while on route that even if we arrived in Skagway and hated it, the drive in would have made the trip totally worth it!  Our first indication that we were in for a treat was at the pull off for Emerald Lake, which is also called Rainbow Lake.  Just look at that green color!  From Rainbow Lake, we came quickly to the Carcross Desert.  This is dubbed "the world's smallest desert" and was totally unexpected.  Of course, it isn't really a desert, but a rather large sandy area left behind by a dried up glacial lake.  Strong winds in the area create dunes and it was a ton of fun to get out and roam around on them.  For the short time we were there, it felt like time had been rewound a few months and we were back in the southwest during our winter full of desert adventures!  Next up, heading south, we stopped at the Bove Island Overlook on the Windy Arm of Tagish Lake, then on to Summit Lake – where we both wished we could stay for hours, over White Pass, and finally down a very steep grade into Skagway.  And these are only the places we actually stopped!  There were so many more pull offs and interesting things to see that we passed right on by!
Once in Skagway we set up in a very over-priced RV park in town, checked the weather, and realizing we didn't have the most favorable forecast for our stay, we headed right back out to do a bit of sightseeing on the Dyea Road while the weather was cooperative.  This is an 8ish mile gravel road that follows the water out to the start of the Chilkoot Trail.  We happened to pass a fox along the way, who was friendly enough to sit and wait for us to get some photos before continuing on his way up the road.  No joke, he ran up right beside the truck, then sat down and looked at us while we took photos.  When we put the cameras away, he got up and trotted off, almost as if he was saying, "You're done?  Ok.  I'll just be on my way then."  It was a really fun few minutes.  As we continued down the road there were several pull offs with informational panels talking about the gold rush and the important part Skagway and the Chilkoot Trail played in it.   Also along the Dyea Road is a gorgeous overlook of Skagway.
Skagway turned out to be a really neat town, but boy was it ever crowded!  Everyday brought a new set of cruise ships (as many as four at a time) and the town would just get flooded with people.  We walked around town a bit and tried getting some photos, but gave up after an hour or two.  Large crowds are just not fun.  We did like getting up close to a cruise ship, though.  Neither of us had ever seen one up close, and since we were able to walk right up to the dock we were able to get a feeling for just how massive those ships are!  It was mind blowing!  We enjoyed watching them head out in the evenings, too!  It didn't seem possible that such huge machines would be able to safely navigate the relatively narrow dock areas, but of course they did!
To escape the crowds, we headed out on the trails around town. The weather looked questionable, so we didn't want to get too far away, but we hiked out to Yakutania Point and Smuggler's Cove which were short hikes leading to different points on the Taiya Inlet. There were lots of rocks to climb around on and the water color of the inlet was a really cool shade of green.
Skagway was a worthy stop. We didn't love the crowds – and this was the most crowded of anywhere we have been in Alaska – but we enjoyed the history of the place as well as our explorations of the areas outside of town. And like we said earlier, the drive down the South Klondike Highway would have been worth it even if we hadn't found anything to like about Skagway.
It's time to continue along our way and find our next adventure!
Until next time!