Our day today was spent at Petrified Forest National Park. This is one of those stops that we had planned, had to cancel due to weather, and then were able to reschedule later, so it was much anticipated! Petrified Forest is about an hour away from where we are staying, so we knew that we would only have one day to explore and we wanted to make the most of it! That meant a long, full day for us!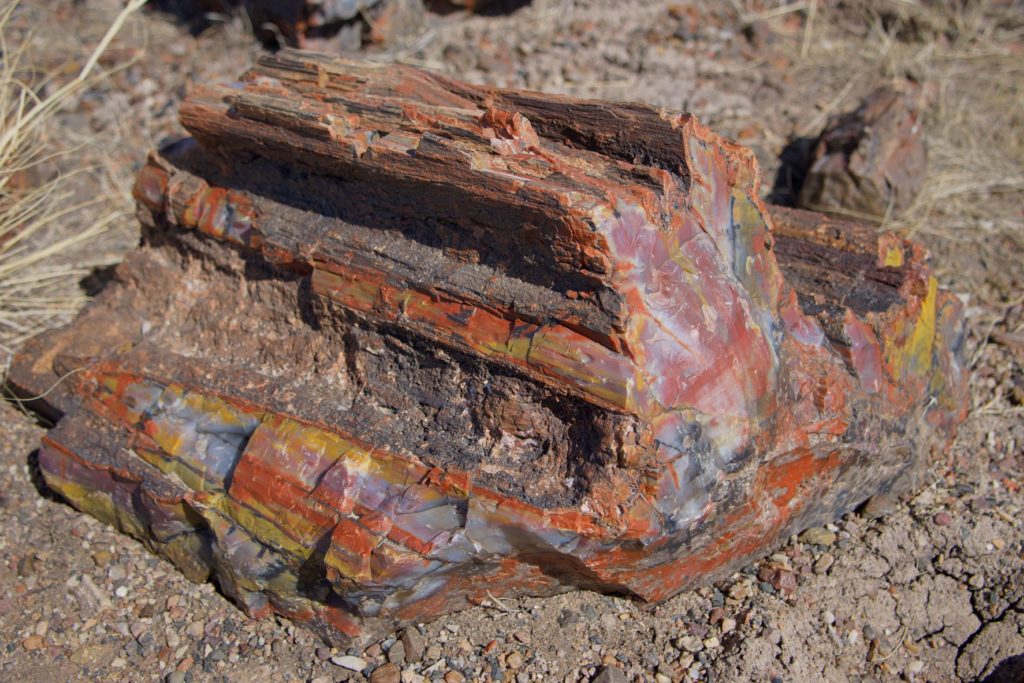 We started out in the Rainbow Forest Museum and doing the Giant Logs trail, and then on to the Long Logs and Agate House trails. This was followed with walks and views in Crystal Forest and Jasper Forest. Absolutely amazing! All these areas were chock-full of petrified logs of all shapes and sizes EVERYWHERE! Obviously, we were expecting to see a decent amount of petrified wood, but this totally exceeded our expectations. The entire landscape was littered with logs of all shapes, sizes, and colors. Even when walking on many of the trails, you are walking on tiny pieces of petrified wood! The rich colors of the logs also exceeded our expectations. You read about it and see it in videos, but nothing can prepare you for or replace seeing it in person. The many colors the logs contain are so vibrant! The Agate House was also something unexpected. It is the reconstruction of a pueblo built out of petrified wood. It totally makes sense that Native Americans would have used it as building material, but wasn't something we had even considered before today.
From the forest areas, we visited Blue Mesa. This is what seems to be a transitional area between the two areas of the park. There is still a decent amount of petrified wood in this area, but it also contains many badlands similar to what you see in the Painted Desert area. The main difference we noticed was the coloring. The colors here are predominantly blue, purple, and gray. The colors in the Painted Desert area are…well, we will talk about that in a minute! The Blue Mesa has a 3.5 mile scenic drive with several overlooks, but our favorite part was the one mile loop trail that took us down into and around the badlands.
Finally, we arrived in the Painted Desert area of Petrified Forest National Park. Unfortunately, by the time we got here, we were feeling a little rushed because the park was closing soon, so we were unable to stop at each overlook and give it the attention we would have liked. There is also the Painted Desert Inn museum in this area that we would have liked to see, but were just out of time. We were able to stop at a couple of the overlooks and we hiked the Painted Desert Rim trail, though. In this area of the park, the colors are predominantly pink, red, and orange as opposed to the blue, purple, and gray of Blue Mesa. It is a spectacular sight, especially later in the day as the lighting gets better. Sadly, the park closed before sunset, so we weren't able to see it during golden hour, but by the time we left, the sun was low enough in the sky that the contrast between the colors and the shadows was really starting to pop!
While we were sad to leave and would have stayed later if we could have, it had been a long day, we still had an hour drive to get back to the Bigfoot, and one of us was starting to get a little hangry. We will let you decide which one of us you think it was. The park's earlier closing time may have been a blessing in disguise!
Watch the video below to see more from our visit to Petrified Forest!
Until next time!