After saying goodbye to Don and Kelly yesterday, we made a quick stop at the Canadian Tire in town to dump our tanks and do a little shopping. We had never been to Canadian Tire and we wanted to check it out anyway, and a free dump station is always a nice perk!
From there, we headed west and north toward Prince George, BC. The plan was to spend the night at a provincial park or visitor center along the way, but we didn't quite make it that far. After being on the road for a couple of hours, we pulled off to have a quick lunch and Jeff did his normal checks of the truck and camper. He was concerned to find that one of the brake drums on the Bigfoot was twice as hot as the others. Obviously, we couldn't just keep driving like that. We needed to find the problem and get it corrected before we could go much further. Luckily, there was an RV park just up the road that had availability for two nights and was willing to let us do some troubleshooting and maintenance at their facility. (Many RV parks will not allow you to work on your rig.) We had called ahead, and when we pulled in they met us outside and were absolutely the nicest, most helpful folks you could ask for. They got us right into a site and said to come let them know if we needed to borrow any tools or needed help finding parts.
It didn't take long to find the problem. As soon as Jeff pulled the brake drum off, the brake shoe friction material all fell out onto the ground. It had de-bonded from the brake shoes and gotten jammed up, causing excessive heat. And since the brakes all have the same amount of miles on them, it was likely just a matter of time before the others did the same. A quick visit with the RV park owners gave us a lead on where to call for parts, and amazingly, we found all the parts we needed to replace all four brakes about 30 minutes away. The store was set to close in just over an hour, so we hurried there, got exactly what we needed at a fairly decent price, and got back to the Bigfoot to begin the repairs.
Before we could get started, though, we needed to have some dinner. This RV park also runs a food truck selling fish and chips. Before we left, we had ordered a two-piece halibut meal that we planned to split, but when we returned and they brought it to us, they brought two three-piece meals – presumably because they felt sorry for us having so much trouble for the day. It was such a sweet gesture, and was just what we needed to pick up our spirits a bit! Let us tell you, too…it was the best fish and chips we have ever had, anywhere! If you are ever near Clinton, BC, be sure to stop for fish and chips at Big H's!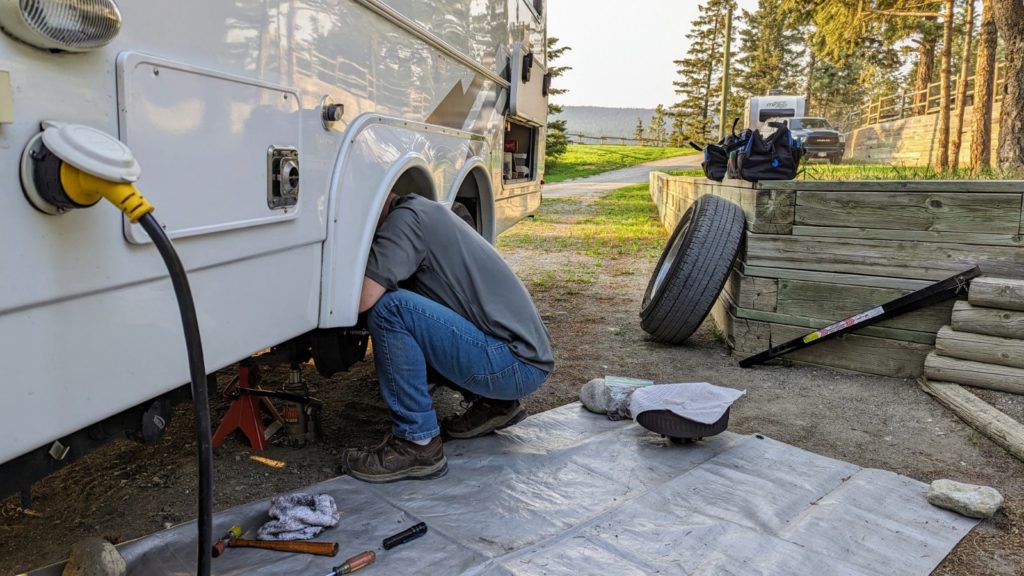 After dinner, it was time to get to work. Jeff got right to it, and got one brake assembly replaced last night, and the other three today. It was a big job and not easy to do away from home while working on a tarp in the gravel, but he had all the tools he needed to get the job done. There is definitely something to be said for being prepared. This job could have gotten much more lengthy and expensive if we had had to buy a bunch of tools, too!
Anyway, we think the brakes should be in good shape now, but we will definitely be keeping a close eye on them for the next few drives. To add insult to injury, though, when we fired up the truck at the end of the brake job, the "oil change due" light came on. It never ends. That is a different problem for a different day. Tonight we will just enjoy the fact that the trailer has all new brakes and should be good to go for a while.
We will say goodbye to this RV park tomorrow and head north. We haven't the slightest idea where we will be staying, though. This is the Victoria Day holiday weekend here, so campsites are few and far between. And within the next day or two we will also have to decide if we are going to try to take the Alaska Highway or the Stewart-Cassiar Highway. The Alaska Highway would be our preference, but there are several wildfires close to it, so we need to consider safety and the amount of smoke we will have to drive through. That will be a decision for tomorrow, though. Check back and see where we end up and what we decide!
This video shows a bit from our unexpected issues at the border (from last post) and our trailer brake repairs.
Until next time!