We have spent the last three nights at Chena Hot Springs Resort, north-east of Fairbanks. This place is a very eclectic mix of historic, natural, and man-made treasures. There are such a wide variety of activities and attractions that everyone is sure to find something they will enjoy. Let's start with the activities we enjoyed during our visit.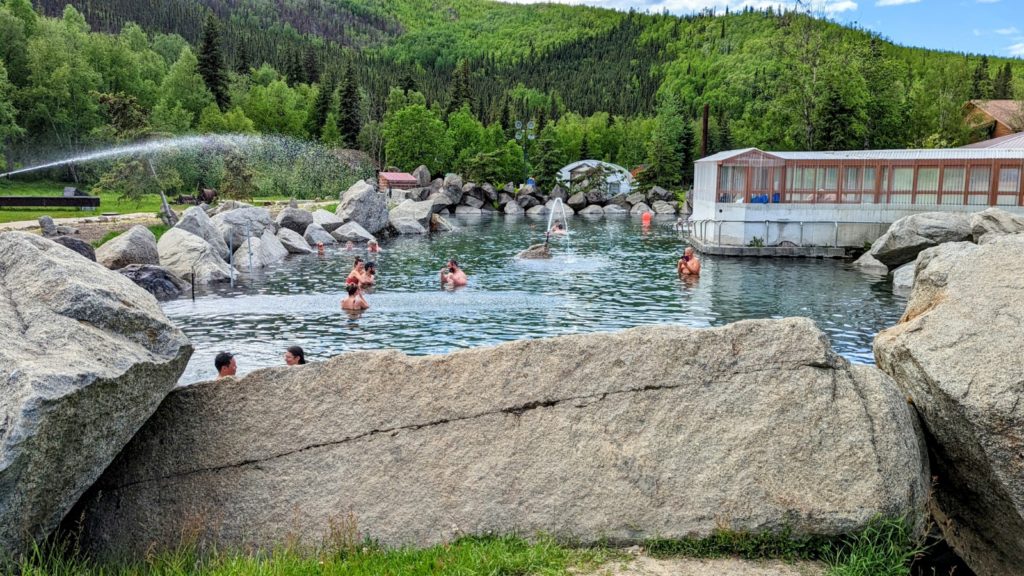 The main attraction is of course, the hot springs. We spent all of our soaking time in the "natural hot springs lake." This is an outdoor, gravel-bottom pool surrounded by large boulders that they pump the hot springs water into. We appreciated that it is an adults-only pool and that the atmosphere was very calm and relaxing. It is also rather large, so it didn't feel too crowded. A few things to note about this pool…It can get VERY hot in the areas where the hot water is being pumped in, and one of those areas is at the entrance to the pool. There is no area of slightly cooler water to allow your body to acclimate. You go from being in the cool air to the very hot water and it can be slightly painful. If you can power through the hot spot though, the water moderates quickly as you approach the center of the pool. Also, this pool is pretty deep compared to other hot springs we have visited. Heather is 5'3" and the water was at least chest high on her in every area of the pool. In some areas, it came to her neck. In addition to the natural hot springs lake, there is an indoor pool for families and those under 18 years old, and several hot tubs, but we didn't try any of these out. Soaking is $20 per person, but that does get you unlimited use of the pools and hot tubs for the entire day, so try to go early and get in several visits to get the most bang for your buck. We were able to get in two lengthy soaks!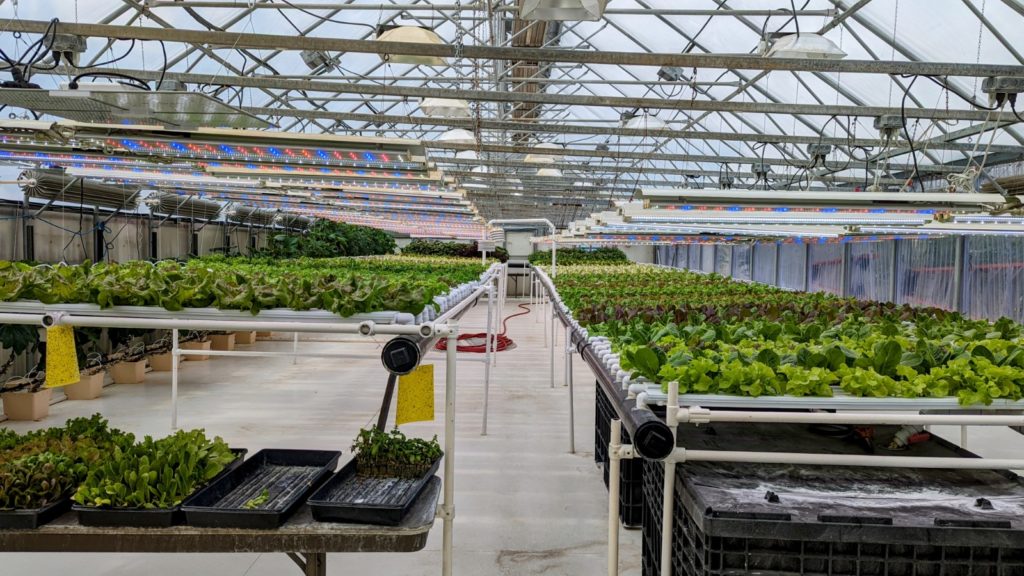 The resort prides itself on its geothermal power generation plant and greenhouses that they utilize to be as sustainable as possible. We took a quick tour of each, although we believe the term "tour" is used loosely here. Basically, a guide took us to the door of each and let us look in the door a bit as they gave us some facts and information about them. We were not actually allowed inside either. The geothermal plant utilizes the water from the hot springs to provide heating and power for the resort. The greenhouses grow vegetables hydroponically that are used in the resort restaurant. It seems the majority of what they grow is lettuce and tomatoes, but there may be other vegetables as well. An interesting tidbit…the tomato vines can grow to be up to 70 feet long and produce tomatoes for one to three years! This tour was free.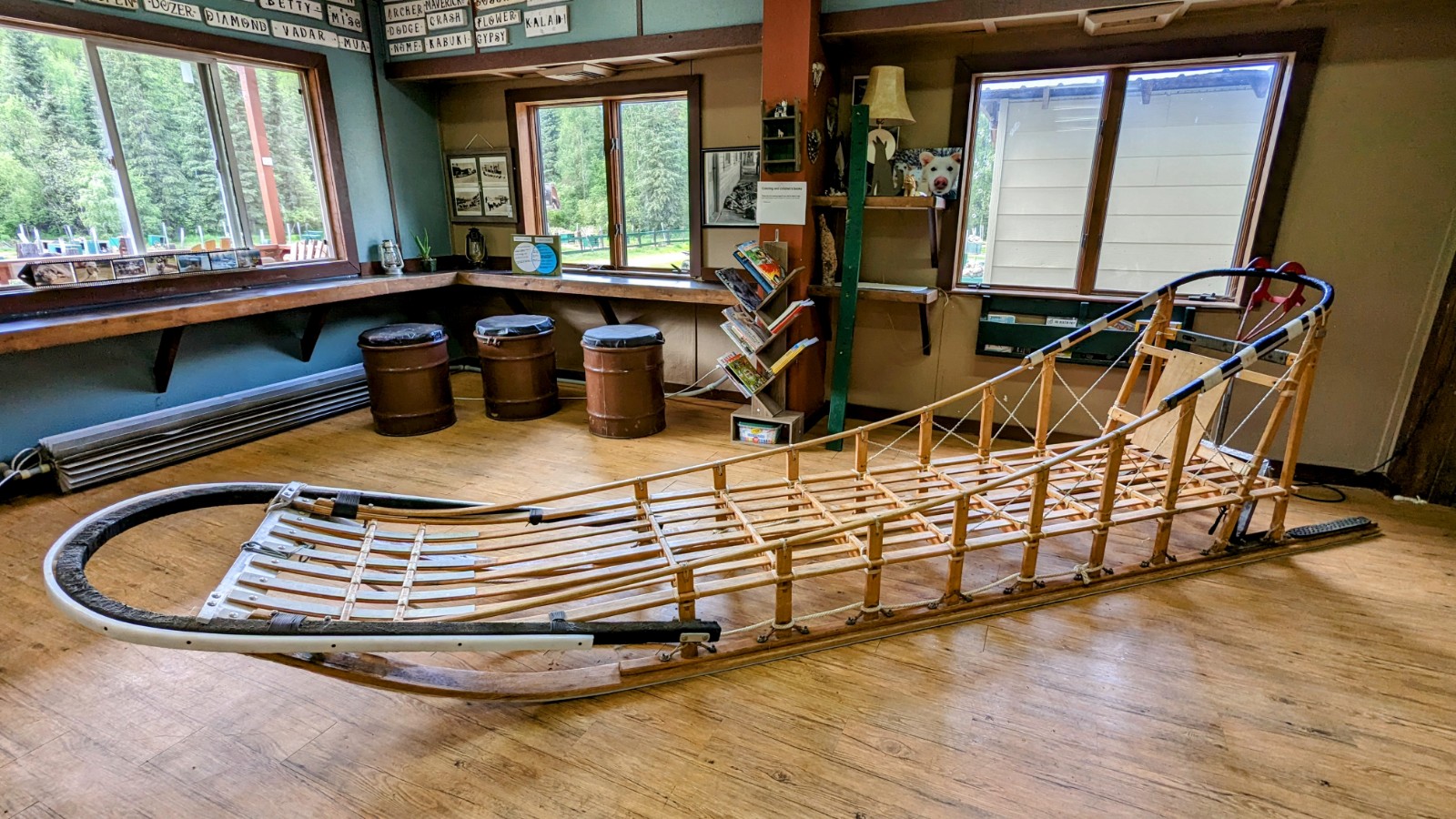 On Tuesday, we were considering a dog kennel tour. Yes, this resort has a dog kennel (84 dogs strong!) that they use for dog sledding in the winter. In the summer, they do dog cart rides ($65/person) and dog kennel tours ($25/person), but you can also just walk over to the dog kennel during the day and pet some of the dogs as well as see some dog sleds and read some informational panels in the visitor center. We walked over before purchasing a tour to see what it was like and determine if we thought the tour was worth the cost. When we walked over, the super friendly kennel staff told us we were welcome to pet the dogs along the fence of the kennel yards, but not to go inside the fences, and that we were welcome to explore the visitor center as well. We chatted with her for a few minutes and asked what the tour would entail and she said that with a tour you are allowed to enter one of the kennel yards and interact a little more with the dogs, and that there would be a talk to go over some of the information displayed in the visitor center. Unfortunately, there is no dog sled/cart demonstration during a summer tour. We spent over an hour petting the beautiful dogs along the fences and exploring inside, and decided that was good enough for us. We had to get out of there before Heather was convinced to adopt a pair of brothers that she had fallen in love with! They do adopt the dogs out when they are ready to retire, so if you are looking for some new friends, go check out Jabba and Solo. They are the sweetest! But make sure to take both of them; they are pretty bonded!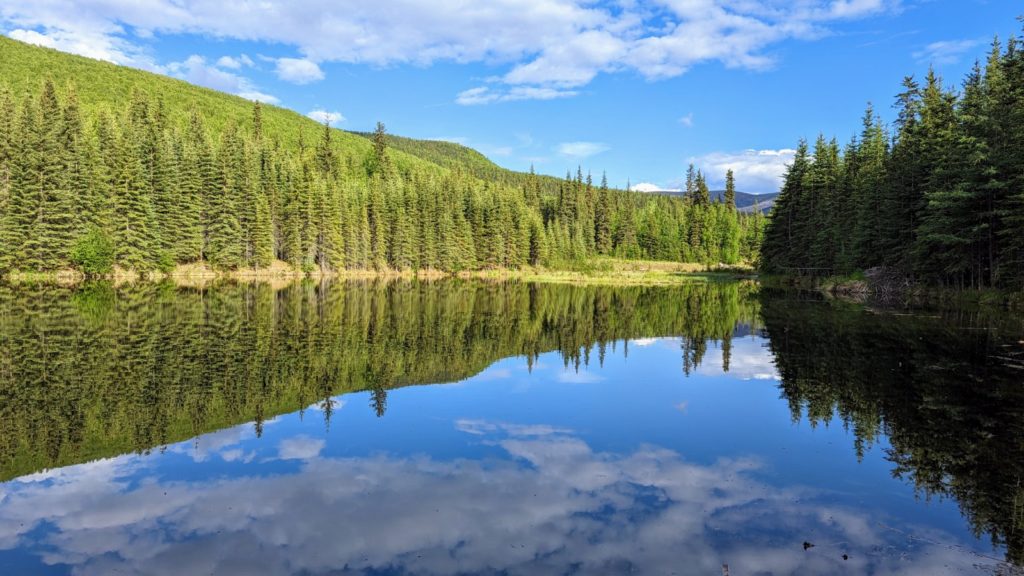 To round out our visit to the resort, we went on one of the hikes on the property. We chose the short Nature Trail hike that goes around a beaver pond. About one trillion of our mosquito friends decided to join us, so we may have set a hiking speed record for a mile and a half! The mosquitos hadn't been too bad all afternoon, but man did they show up for the hike! That is one thing about Alaska…At times the mosquitos aren't too bad, but if you get into the trees or around standing water, they will show up in force! It is best to always be prepared for them!
There are a variety of other activities offered at Chena Hot Springs Resort that we did not participate in. There is an ice museum with a bar where you can get an apple martini served in an ice glass, you can rent bikes, canoes, and paddle boards, take guided ATV or side-by-side tours, or get a massage! Of course, it all comes with a hefty price, so be prepared to pay up if you want to participate!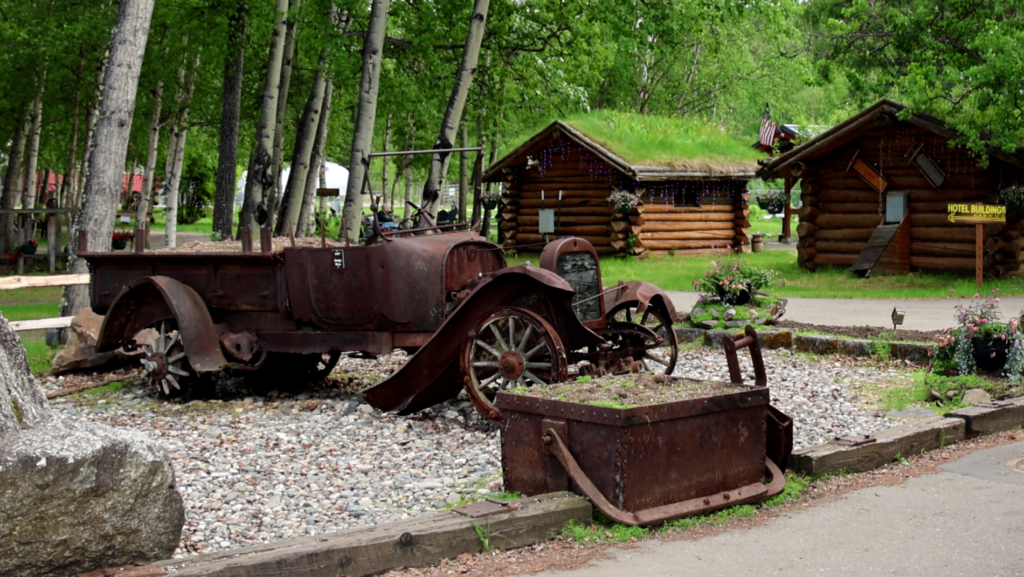 In addition to all the formal activities, there is a TON of old farm and gold panning equipment sitting everywhere that we enjoyed seeing. Jeff especially liked taking it in and figuring out the use of each piece of equipment and trying to determine how each worked. He has decided that we need a vintage Caterpillar bulldozer. Because we have so much use and space for a bulldozer…
There is also a large airplane and a train on display that the owner is hoping to develop into attractions, guest rooms, etc. in the future. Based on the information that one of the employees we spoke with gave us, the owner seems to have lots of ideas for additional ways to draw people to the resort.
Now for our thoughts on Chena Hot Springs Resort…
First, we found it to be a little pricey. While we expect to pay for attractions, tours, and services, we felt that some of it was a little too much for what is included. That said, there were plenty of people participating in all the activities, so I suppose you can't blame them for charging the price as long as people are willing to pay.
The resort is nice, and more than adequate, but it feels a little tired. It feels like it peaked about 10 years ago and has been let go a bit since then. Nothing is terrible, but there are some buildings and areas that could do with a bit of maintenance, fresh paint, and some up-keep.
The staff is hit or miss. Some are very friendly and helpful and others seem like some additional training is in order.
We love the idea that they are working to be as sustainable as they can by growing some of the food they serve in their restaurant and by utilizing the water from the hot springs to heat and power the resort!
The eclectic nature of the resort is part of what makes it fun! We love that the different attractions don't seem to fit together in any way, yet here they all are, with a little something to appeal to everyone! Want to drink an apple martini in a 25 degree room while looking at ice sculptures? Sure! Rather go four-wheeling up a hillside to a view? No problem! Or maybe you just want to soak in some hot water until your hands prune? You can do that, too!
All in all, we have had a fun visit! This is one of those places that we are very happy we visited once, but we feel like we have adequately experienced it, and probably will not come back. The only exception would be if we were in the area in the fall or winter. This is supposed to be an amazing place to view the Northern Lights, so that might someday be the reason for us to venture back this way!
Until next time!