We have had a very relaxing week and a half since our journey into Wrangell-St. Elias National Park via the McCarthy Road. We have spent the time traveling short distances and staying in a combination of roadside pull outs and small BLM campgrounds.
We have spent a few days each in Sourdough Creek Campground, Paxson Lake Campground, and Tangle Lakes Campground. Sourdough Creek and Paxson Lake were both stops right off the Richardson Highway. Sourdough Creek was just a spot to spend a couple of rainy days that had good cellular coverage. There really wasn't much to do there, and the mosquitos were some of the worst we have encountered. Paxson Lake was a little more scenic. While there were no views of the lake from our campsite itself, it was just a short walk to the boat ramp where we could view the lake, the distant mountains of the Alaska Range, and the Trans Alaska Pipeline. The weather was still not great while there, but there were at least some breaks in the weather here and there so we could get out, enjoy the views, and visit with some great folks from California. (Hi Wayne and Diane!) We also encountered a feisty squirrel while there, who enjoyed throwing spruce cones at our camper from the top of a tree next to the campsite. Jeff had the honor of climbing on top of the Bigfoot and clearing the sappy cones off the roof before we left.
The highlight of the last week and a half, though, has been our stay at Tangle Lakes Campground along the Denali Highway. During our travels in Alaska, we have had several people tell us that the most scenic drive in the state is the Denali Highway. Because much of it is unpaved, though, we had our doubts about driving it with the Bigfoot in tow. We were told there is a 21 mile section at the eastern end, however, that is paved and has a campground near the end of the pavement, so we figured we could probably do that much with the trailer and then just explore parts of the highway in the truck. Off we went.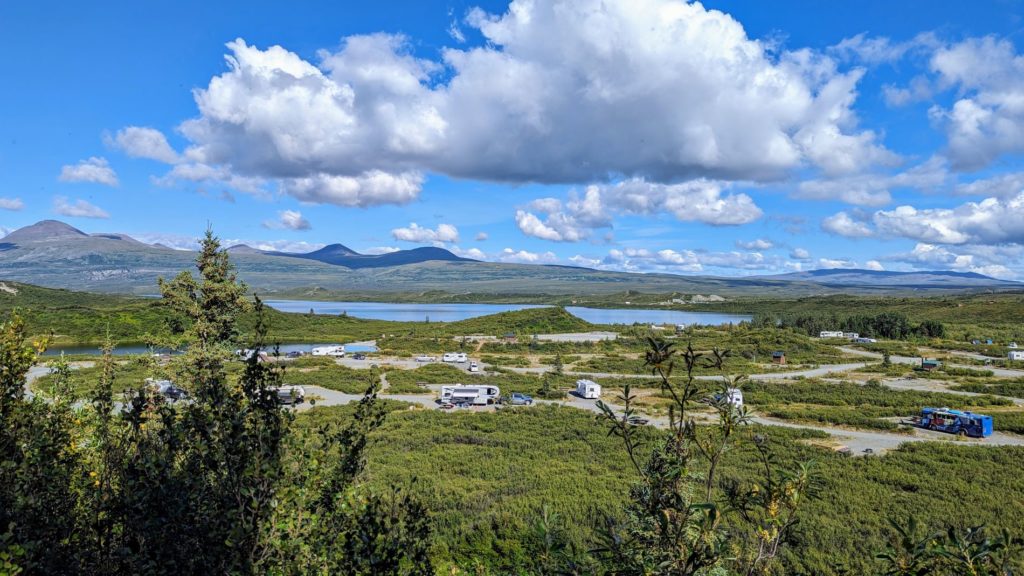 Tangle Lakes Campground is one of the most scenic we have stayed in while in Alaska. Because it is located in an area of tundra, there are not many trees, so there isn't much privacy between sights, but they are somewhat well spaced and the lack of trees mean great views. Our site was one of the best with great views of the surrounding mountains and hillsides, and we could even see the lake from our site! It is one of our favorites!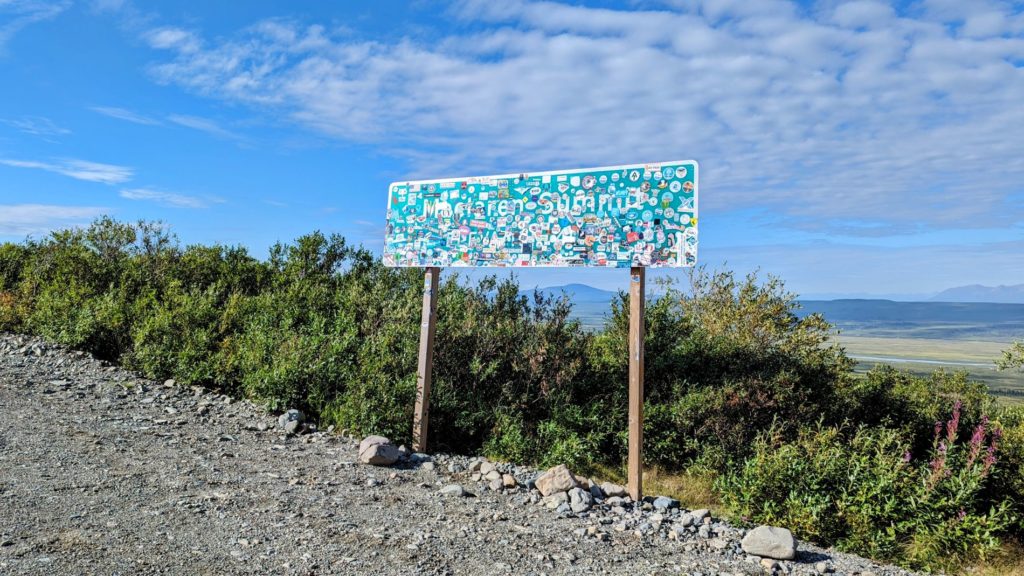 While in the area, we had two objectives. The first was, of course, to explore some of the Denali Highway. It is 134 miles long, so without taking the trailer we knew we wouldn't drive the whole thing, but instead decided to do a little over half, turning around at the Susitna River. We were greeted with spectacular views of the Alaska Range, more lakes than we could count, the beautiful Susitna River, and crossing the second highest pass in Alaska. We were also greeted with a road in much better condition than we expected. Everything we had read said it was rough gravel from just west of our campground, but in reality, it was chip-sealed for most of our drive. There were some potholes to steer around, but otherwise, it was in really good shape. All along the way there were informal campsites for boondocking along the road. Even with as much as we love Tangle Lakes Campground, had we known then what we know now, we would have by-passed the campground and headed for one of the informal campsites with a view of the Alaska Range! The photo at the very top of this post was taken from one of those informal campsites! We will know for next time! We also treated ourselves to lunch at Alpine Creek Lodge along the way, which we had seen in some videos on the internet. The food was good, the atmosphere was that of an old time Alaska lodge, and we enjoyed visiting with several of the super friendly employees. We are sad that we didn't get to see the western half of the Denali Highway, but are so happy that we had good weather and time to drive and see as much as we did.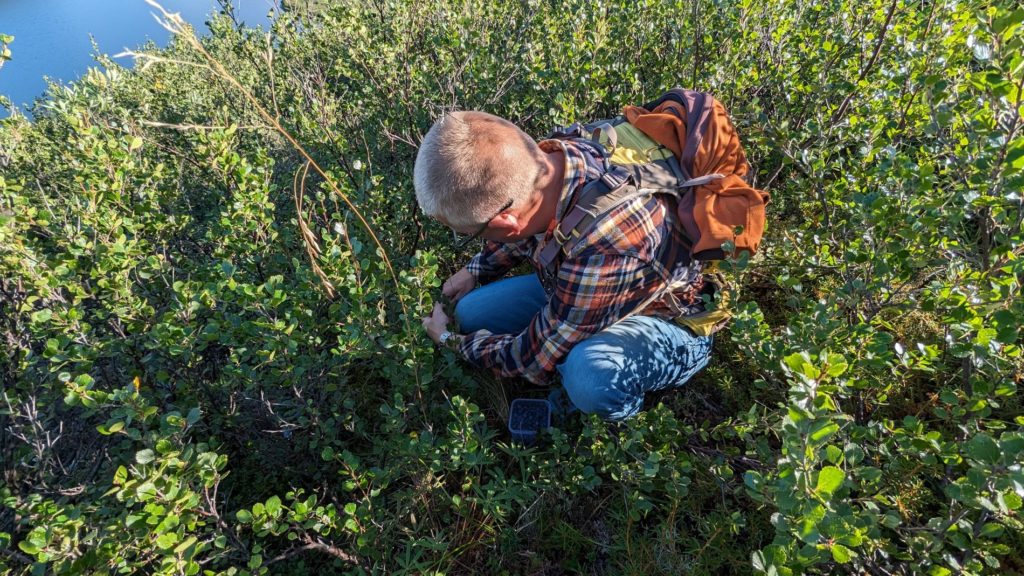 Our second objective while at Tangle Lakes was berry picking! Nothing screams "authentic Alaskan experience" like getting out into the wilderness and foraging, and it just so happens that the blueberries were ripe and plentiful around our campground. There is a ridge trail that leaves right from the campground that goes up to an area that is absolutely chock-full of blueberries. We were amazed at the sheer number of them around! We went up and picked twice during our stay and have enjoyed chowing down on them! We still have a bunch, so a blueberry pie or crumble is likely in our future. Let us know if you have a great blueberry recipe we should try!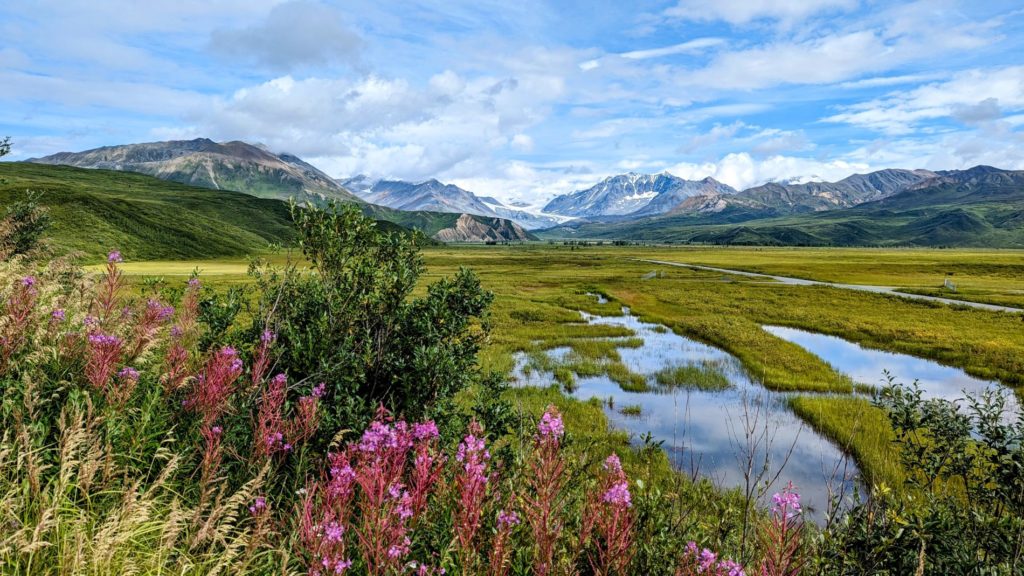 Now, we are making our way back toward Fairbanks. (The photo above is one of the gorgeous scenes we encountered along our way north on the Richardson Highway.) Our grocery situation is in dire straits, we are out of clean clothes, our waste water tanks are full, and our fresh water tank is empty. Heather is also having a bit of an issue with a swollen eyelid, so that needs to be looked at. It is time to head back to civilization to get some things taken care of. We are also in the market for a new set of tires for the truck before we head back to the lower 48 in the next few weeks, so we will see if we can find what we are looking for in Fairbanks. As much as we love the wilderness and being off-grid, sometimes you just need a city!
Until next time!