We have spent a few rainy days in Fairbanks taking care of the business of life. We have done laundry, spent a record amount of money at the grocery store, gotten some prescriptions filled, payed bills, and edited and uploaded a video. The weather hasn't cooperated for us to get outside much, but there have still been a handful of enjoyable activities mixed in, too.
First, we have some friends that were in Fairbanks for a day, and surprisingly, we found a time that was mutually agreeable for us to get together.  The visit was short, but it was so nice to have time to connect.  These ladies have been part of Heather's life since she was very young!  Helen lived next door to Heather's grandparents for many years, and both Helen and Joyce were among Heather's grandmother's best friends.  Anita is the mother of one of Heather's best friends from growing up and also served many years as her Sunday School teacher.  These are folks who helped shape her as she grew up and seeing them was like seeing family.  It felt great!  As we have said before, our travels are amazing, but it is sometimes difficult to be so far away from family and friends.
We also had the chance to visit the University of Alaska Fairbanks' Museum of the North. This is a museum that came highly recommended by many locals we have met, but we ran out of time to visit last time we were in Fairbanks. Since we had time, and the weather wasn't conducive to being outdoors, we hit it on this visit. It is a very extensive museum that explores Alaska's five geographic areas. The displays cover everything from the people, wildlife, geography, and history of each region. There is also an art gallery area and a room in the museum called "The Place Where You Go to Listen" that we found fascinating. The lighting and sounds in this room are directly related to the immediate environmental conditions of Interior Alaska. The lights change with the time of day and phase of the moon, different musical sounds occur depending on the weather outside, bells roll across the ceiling when the aurora are dancing, and thundering sounds shake the floor and walls during seismic activity. We so wish they had a live stream webcam because we would love to see and hear the differences as the conditions change!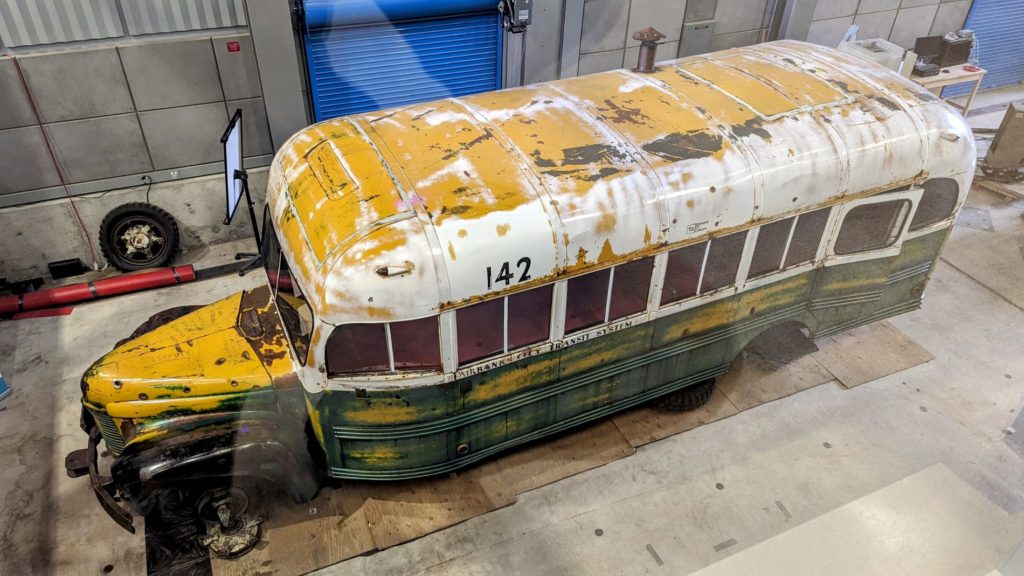 We had heard that Bus 142, also known as "Magic Bus", "Stampede Trail Bus", and "Into the Wild Bus" was on display at the Museum of the North as well, but that isn't exactly accurate. They are currently working on an outdoor display area for the bus, but for now, it is located in a testing lab in the engineering building on campus while it undergoes restoration. Fortunately for us, the engineering building was open and the lab has some huge windows that you can look through to view. If you have read the book or seen the movie "Into the Wild" this is the bus that Christopher McCandless lived in, and where he ultimately lost his life, in the Alaskan Wilderness. We won't go into all the details of how this came to be, but we recommend the book and movie if it is something you would like to learn more about. Seeing the actual bus was sobering. Knowing the struggles that had happened within made us pause to reflect on and acknowledge how precious life is.
Finally, during our time in Fairbanks we have thoroughly enjoyed the fruits of our labor – blueberry fruits, that is! We have enjoyed blueberry pancakes, blueberry drop biscuits, and blueberry crumble, and there are still many more of those little drops of goodness in the fridge waiting for our next inspired idea! Heather has spent hours pouring over the internet to find easy recipes that we already have the ingredients for, so like we said in the last post, if you have a recipe we should try send it our way!
Tomorrow we hope to head away from town and back into wilderness for a few days, but we will be back in Fairbanks by the end of the week to get some new tires put on the truck in preparation for our journey back to the lower 48!
Until next time!