I'm sure you are all going to be shocked when we say that no, it is not actually the moon. We did not shoot ourselves into outer space for any crazy adventures, but are instead at Craters of the Moon National Monument in southern Idaho! This is our first visit to Idaho, but we are sure it won't be the last! We were really hopeful to visit more of this spectacular state, but since we are here pretty late in the season, too much is starting to shut down. The rest will have to wait for a future visit. What we have seen so far, though, has been spectacular!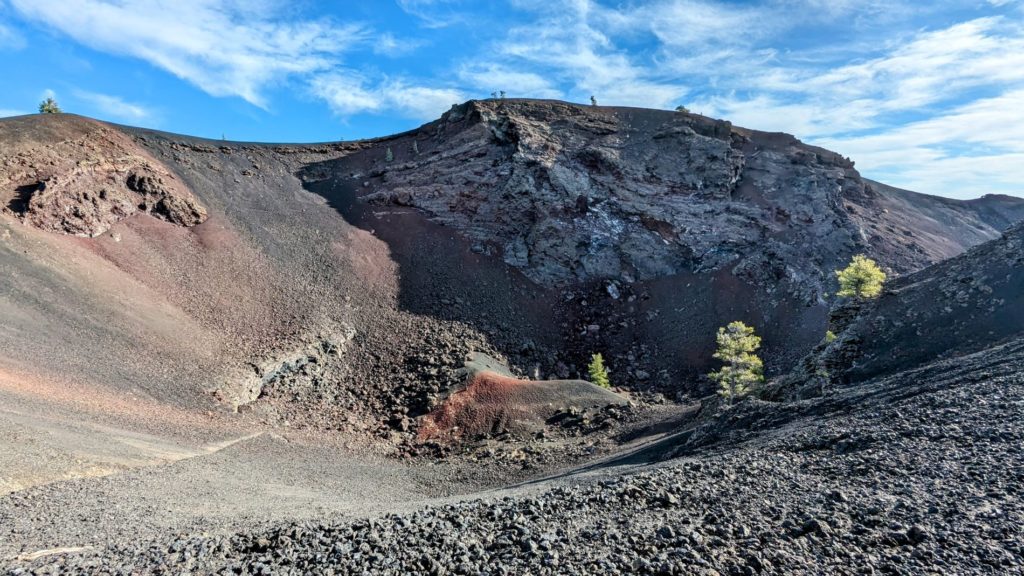 First…What is Craters of the Moon National Monument?  It is an area of past volcanic activity that is full of lava fields, spatter cones, cinder cones, and lava tube caves, but it does not originate from a single volcano.  The volcanic features here issued from a series of deep features, known as the Great Rift.  Lava began welling up through the Great Rift over 15,000 years ago, with the most recent eruption being only 2,000 years ago, and scientists believe that future events are likely, though there are no guesses as to when.  Thankfully, it wasn't while we were visiting!
Mid-October seems to be a great time to visit! The weather for our entire visit was in the 60s and sunny, and crowds were super light! The campground saw a fair amount of activity, but we don't think it ever completely filled in the five nights we stayed. If you are coming during a busier time, though, you might want to have a plan B. We hear that the campground fills quickly, especially the lower loop that can accommodate larger RVs. Keep in mind, though, that there is no dump station here, so come prepared, and the water in the campground is shut off in the early fall so there is no drinking water and only vault toilets after that. The setting amidst the lava is pretty great, though!
The non-wilderness area of Craters of the Moon is fairly small. We spent several days here and took our time seeing the park, but you could easily see most of it in a day or two. There are even a lot of people who come in for a few hours, drive the scenic loop, do a couple of the short trails, and head on out. That isn't the way we like to travel, but you could actually see a fair amount here that way. It is also an extremely handicap accessible park. There are quite a few trails that are accessible and this would be a great place for someone with limited mobility to get out and enjoy.
We were amazed at the variety of volcanic features contained in one place!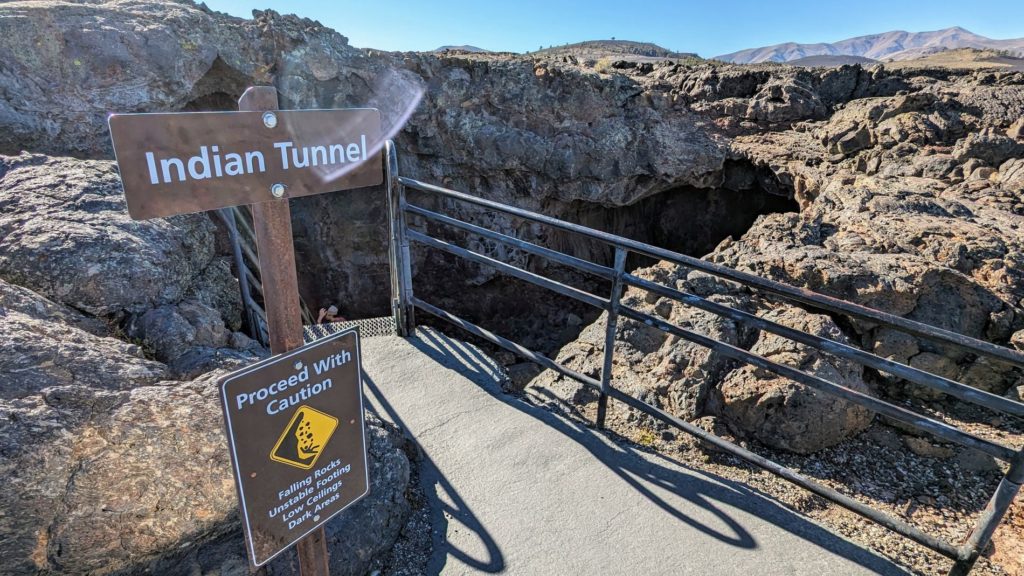 We loved hiking into Dewdrop Cave, and through Indian Tunnel which are both lava tube caves created when a lava flow hardens on the surface, but continues to flow underneath, eventually leaving an opening in the middle. 
There were spatter cones, or "miniature volcanoes" created when lava is flung up and sticks together to create a cone around the opening. 
Heather's favorite were the cinder cones. These are created when lava with a high gas content is flung into the air and eventually settles, creating a cone. The cinders are so light and airy! They sparkle in the sun and are satisfyingly crunchy under your feet!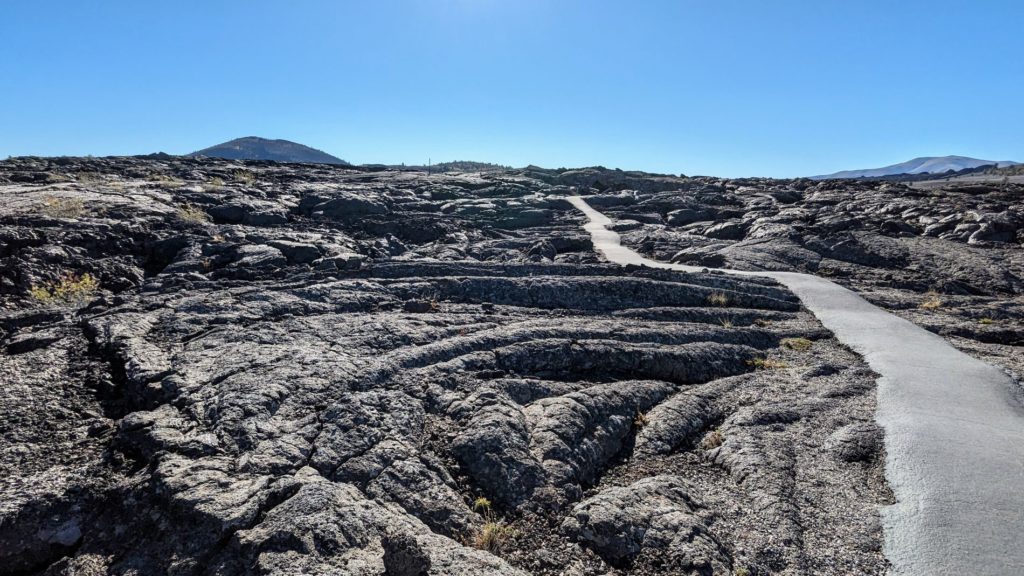 Even the actual lava flows take many different shapes.  There are areas that are smooth and glassy, many that look rope-like, and even more that are sharp and crusty.  "Bombs" litter the surface in some areas, too, where chunks of lava were flung up and hardened while in the air. Variety is the name of the game here!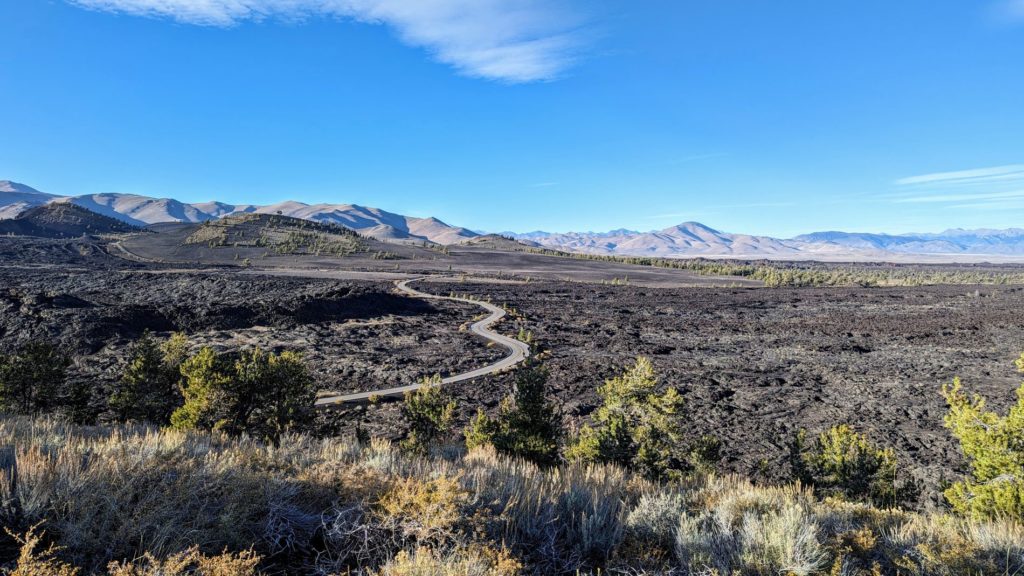 If you only have a few hours in the park and want one hike to see the greatest variety of features, we recommend the Broken Top trail and spur to the Big Sink Overlook. This is a 1.8 mile loop that we found to be fairly easy, but with huge rewards. There were some uphill sections of this trail along with some uneven surfaces as you walk along the lava for a short distance, but nothing too terribly difficult. Along the way are spectacular examples of different types of lava flows, lava bombs, a cinder cone, and one spectacular overlook to see a huge area of the park.
We can't talk about this park without mentioning the night sky! We visit dark sky parks frequently, but rarely do conditions line up for the kind of viewing we had here. The moon set early in the evening while we were here so the sky was darker than usual, there are few trees or buildings to obstruct the view, and we had crystal clear skies! We went out several nights and were greeted each time with amazing views of SO MANY stars, the milky way, and shooting stars. Heather thinks this may have been our best milky way viewing to date! Spectacular!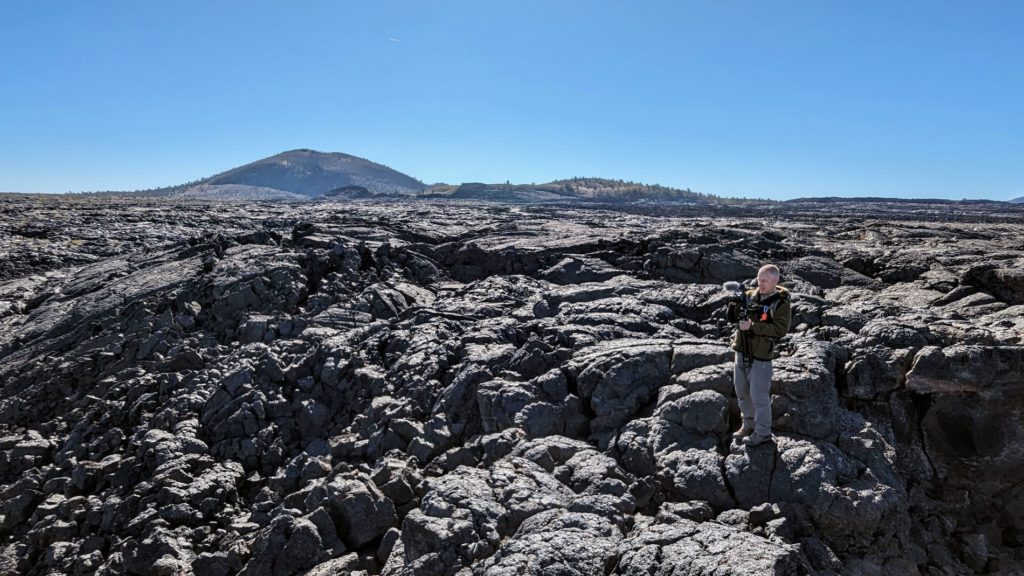 In short, our recommendation for Craters of the Moon is…Come! See! Experience! It is definitely unlike anything else we have ever seen!
Until next time!