We had to make one last stop in Idaho before heading out of the state! On our way south we stopped in Twin Falls. Honestly, we were expecting it to just be a stop for chores, but this town has so much to offer that we didn't hit even half of it! We will definitely be back to this amazing area!
The Snake River Canyon runs directly through town, and the famous Perrine Memorial Bridge crosses it. The bridge and canyon alone are spectacular, but what makes this place even more interesting is that the bridge is the only man-made structure in the United States where it is legal, 365 days per year, to BASE jump from without a permit. That seems crazy! There are railings along it that are a good 4 feet tall that people just climb right over and jump off! You know our luck, though. Despite stopping by three times, we were unable to catch a time when there were folks jumping. We looked up some videos, though, and it looks amazing! You should look it up, too!
We also drove to Centennial Park at the bottom of the canyon to see the river from water level.  Unfortunately, we were not able to get too close to the water as they have been treating it due to an invasive mussel contamination.  The park is neat, and usually offers kayak and canoe rentals that would be so much fun, but without being able to get out on the water, there wasn't much there to hold our interest.
On the way back up to the rim of the canyon, though…Man-oh-man!  A small pull off on the side of the road led us on a short trail to spectacular Perrine Coulee Falls!  This gorgeous waterfall plunges almost 200 feet from the rim of the canyon to a rocky base just below the trailhead.  The best part is that the trail takes you around behind the falls so you can look through the falling water into the canyon and the snake river below!  It is phenomenal.  And wet.  Between the water dripping from the overhang above and the mist from the falls, we got quite damp but it was totally worth it!  The only disappointing part of this trail is that a few unpleasant people have felt the need to leave their mark, and there is a fair amount of graffiti around. Just…why?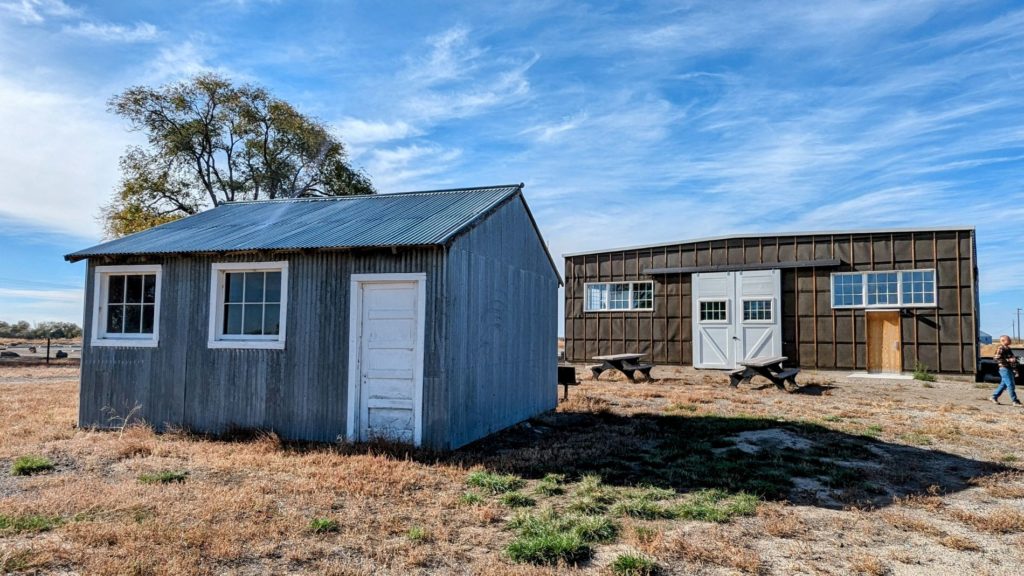 Also nearby is the Minidoka National Historic Site. If you remember a few months back when we were in California, we went to Manzanar National Historic Site which was one of the ten Japanese American Internment Camps situated around the country during World War II. Minidoka was another. We won't go into the details of this again, but seeing another of these sites was sobering. We absolutely encourage you to look these camps up and learn about what happened. The only way to avoid repeating the mistakes (and crimes) of the past is to learn about them and remember them.
As mentioned earlier, there are so many things in this area that we missed out on seeing that will have to wait until next time! First, of course, is Shoshone Falls which seems to be the area's crown jewel. The viewing area for the falls is currently closed, though, due to the water treatment to kill the invasive mussels, so we weren't able to get close. We also missed out on seeing Dierkes Lake, Pillar Falls (there wasn't much water flowing over them during our visit), Auger Falls, and the site where Evel Knievel attempted to fly his sky cycle over the Snake River Canyon. We were also hoping to ride our bikes along the Canyon Rim Trail, and make it to nearby Balanced Rock, and of course, we really wanted to see some BASE jumping! There is just so much to see and do here, and we had no idea!
For now, though, the weather is starting to turn and we need to get south. We have one more stop along the way that looks to be a cold one, though. Check back in a few days and see where we are heading and how cold it gets!
Until next time!