Right up front, let us say this…We had a less than great experience at Great Basin National Park, but it does not mean that it isn't an amazing place to visit. In fact, a lot of the reasons it wasn't the best weren't the fault of the park at all. We both really want to go back when conditions are different, so we can get a better feel of what this park is all about and have the great time that we know we are meant to have. Also, our entire visit wasn't a total loss; even with the problems we encountered, there was still fun to be had! Let's start with what wasn't great about our visit, and then end on a high note!
We knew that it was getting really late in the season for this park, but when we checked the day before, it seemed like everything was still open and available for exploration. Our first stop on our way in, though, was the visitor center to be sure. We were extremely disappointed to learn that the main road through the park (the Wheeler Peak Scenic Drive) had closed earlier in the day in anticipation of a winter storm. This is a park with several distinct areas, but the main attractions are all along this road. It is also the only paved road in the park, with all the others being washboarded, dusty gravel. With all the scenic drive had to offer being ruled out, we knew this would be a short visit, but were still excited for the cave tour we had previously reserved, as well as seeing a few other sights along the way.
After the disappointing stop in the visitor center we headed off to get a spot in the campground. During our visit, only two campgrounds were open. Upper Lehman Creek Campground is located along the Wheeler Peak Scenic Drive – just before the closure, and Baker Creek Campground is on Baker Creek Road which is one of those dusty, washboarded gravel roads we mentioned earlier. Obviously, our preference was the one on the paved road so that is where we headed. The rangers didn't seem to think we would have trouble getting a spot, but we found on arrival that the campground roads are very tight and most of the sites very small. All the sites we could fit in had already been taken for the night. At this point, if we hadn't already made reservations for a cave tour the next day we probably would have left and headed on down the road, but we had the tickets we didn't want to forfeit. This meant a very unpleasant drive to Baker Creek Campground.
The drive was not great, but with careful watching and steering, it was possible to avoid at least some of the washboard. The problem we encountered, though, was that it was very steep and going so slow pulling the Bigfoot up that steep grade caused our transmission to overheat. That has NEVER happened before. We had to pull over for about 30 minutes to allow it to cool down before continuing. After our experience at Upper Lehman Creek Campground, we were super concerned that we would get to Baker Creek and again not find a spot, but it wasn't nearly as busy and there were several spots for us to choose from. Feeling glad to finally be situated in a spot, even if it meant we had to drive a less than desirable road and overheat our transmission, we got out only to hear a very unusual knocking sound coming from behind the radiator of the truck. It stopped after a few minutes and we still don't really know what it was. It hasn't happened again today, but is definitely something to pay attention to and listen for in the future. Needless to say, we climbed into the Bigfoot that night feeling a little unsure and maybe a little dejected! Vehicle issues at home are an inconvenience; vehicle issues for us on the road can halt us in our tracks, so they are quite worrisome! To top everything off, the wind was HOWLING so we got rocked around all night and the forecast was calling for some rain which left us worried about what the condition of the road would be in the morning when we had to get out for our cave tour. (It turned out to just be a few sprinkles.) Neither of us slept well.
Because we only wanted to drive Baker Creek Road once, and also because our campsite was so steep that we weren't comfortable unhooking, we decided we would pull the Bigfoot to the visitor center for our cave tour the next morning and if the road had reopened we would attempt again to get a campsite at Upper Lehman Creek.  If the road had not reopened we would go on the cave tour and then head out of the park and cover some miles toward our next destination.  Well, the road had not reopened, so tonight we are at Jeff's favorite camping spot of all time.  Walmart.  (Just kidding.  Jeff hates staying at Walmart, but sometimes there aren't a lot of other options, and we are very appreciative to at least have it as a back up!) Update: It is now the day after the original post was published, and despite the ranger telling us that it was likely the road was closed for the season, it reopened today. Dang it! You win some, you lose some.
Now, let's get to the good stuff we encountered at Great Basin National Park. It was not all a loss!
As mentioned, we had reserved tickets for the Lodge Room Tour of Lehman Cave. It sounds like the cave was actually the main attraction when the area first became popular, and the rest of the national park kind of grew around it. Tours have been offered in this cave for over 100 years, and it is pretty spectacular! There are TONS of formations including stalagmites, stalactites, cave popcorn, drapery, cave shields, etc. We didn't find it to be as spectacular as Carlsbad, and we enjoyed the self-guided tour at Carlsbad over the one here led by a ranger, but it was still amazing! Cave formations are fascinating. They look so other-worldly and definitely not like something created by nature!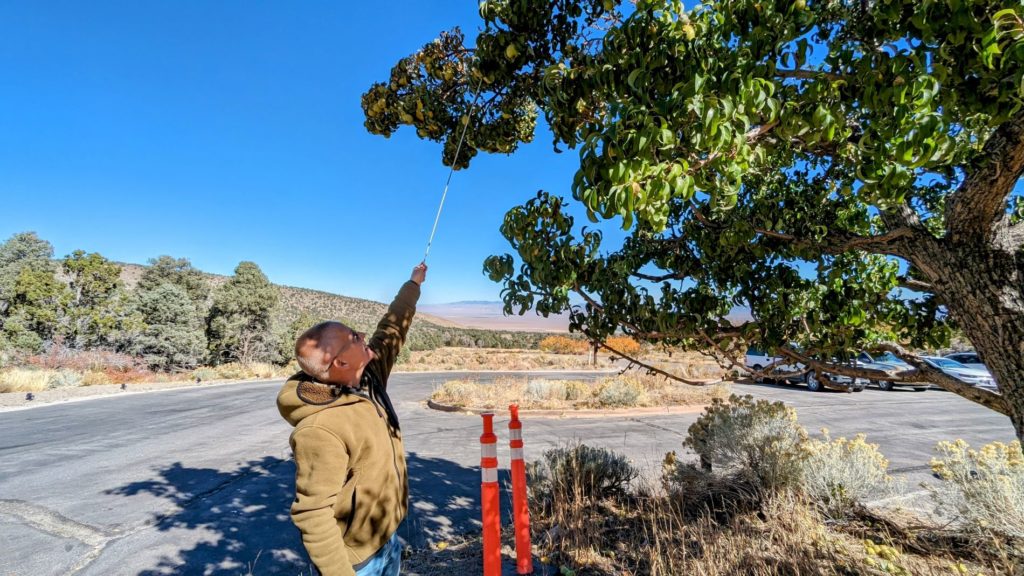 Also, when we arrived at the visitor center before our tour we noticed turkeys in the parking lot eating some kind of big fruit that had fallen off a tree nearby. After our tour was over we went to check it out and found it to be a pear tree! A little research revealed that early settlers to the area planted orchards, and some of the trees were still standing and producing fruit. The park service is caring for these trees and also planting new ones to keep the look and feel alive that the settlers created. Visitors are invited to pick and sample the fruit, so we definitely took advantage of that opportunity! Unfortunately, all the other fruits had run their course for the year, but the pears seemed to be at the peak of ripeness! All the fruit that could be reached easily from the ground had already been picked, but by repurposing the rod we use to pull the awning out, we were able to reach some pears higher in the tree! We will enjoy them for the next week or so!
While Great Basin wasn't the visit we hoped for, it will not stop us from coming back. Actually, it will probably encourage us to come back even more so we can see what we missed! Next time, though, it will be a little earlier in the year to avoid the road closure, and we will show up earlier in the day to have a better chance at getting one of the campsites along the main road! Lessons learned! Now let's just hope that the truck issues were just a fluke and we don't encounter them again!
Come back soon to see where we are headed. It is pretty exciting!
Until next time!